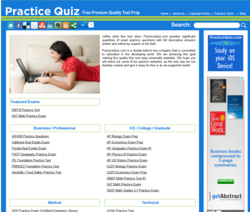 Boston, MA (PRWEB) May 04, 2013
Practice Quiz announced today that it had added study material for the two major private school entrance exams, the ISEE and SSAT, at both the Middle and Upper Levels.
The ISEE and SSAT are both tests designed to assess the performance of grade-school students and is used by the admissions team of independent and private schools as an important factor in determining entrance eligibility.
Both exams are broken into Lower, Middle, and Upper levels, aimed at elementary students, middle school students, and high school students, respectively.
"These tests are very important for students seeking admissions to private schools," says Ted Chan, PracticeQuiz.com's founder, "and kids at that age are not always as used to the standardized testing paradigm, so we believe it's important to offer exam prep and practice questions for these tests, so students can review the format and study to be prepared for when they take the ISEE or SSAT."
Practice Quiz has added 52 study questions, adjusted for difficulty, for two levels the Secondary School Admissions Test:
SSAT Middle Level (Grades 5, 6, 7) (additional math questions available)
SSAT Upper Level (Grades 8, 9, 10, 11)
Practice Quiz has added 65 review questions for the Independent Schools Entrance Exam Middle Level (Grades 6-7), and 62 practice test questions for the ISEE Upper Level (Grades 8-11).
The ISEE and SSAT are similar in scope and both cover mathematics, reading comprehensions, vocabulary, and essay writing.
PracticeQuiz.com is an online test preparation enterprise based in Boston. The website's social mission is to increase access to education by providing high-quality test preparation content for free. The website now boasts more than 100 practice exams, with more expansion in the near future. Tests include certification exams, high school and college qualifications, teaching exams, and medical tests.
Follow PracticeQuiz.com on Twitter (@PracticeQuiz) for the latest news on exam updates and upcoming releases!