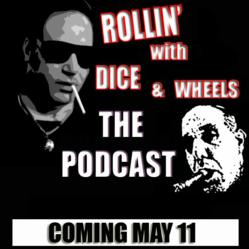 Las Vegas, Nevada (PRWEB) May 13, 2013
Unlike any other podcast on the net, Rollin with Dice and Wheels will feature comedy, rock and roll, celebrities, and chicks. The podcast can be heard on iTunes, Stitcher, Libsyn, all the major podcast directories. Comedy podcast "Rollin With Dice and Wheels" will start out as a one hour plus weekly show with a live stream and video component to be added later in the year.
Like the Diceman himself, "Rollin With Dice and Wheels" promises to be uncensored, raw and opinionated and not be like the hundreds of other podcasts hosted by stand-up comics. Dice and Wheels say their podcast will feature a wild combination of celebrities, Musicians, Comedians and of course Strippers. Plus they will present new talent from both the world of comedy and music. If that is not enough, there will be on air phone pranks, man on the street and fan interviews. And of course every episode will carry the obligatory "Adult Content" warning.
Dice says, "I never felt there was one podcast that captured everything for me. Rather than wait around for someone else to do it, I said @#$@ It! Let me do it. So I teamed up with one of the funniest guys I know and think we're going to have a podcast like no one else has."
https://www.facebook.com/rollinwithdiceandwheels
# # #
ANDREW DICE CLAY
Clay's stomach-splitting and scandalous comedy has fueled his career to unprecedented heights. For over 35 years, Clay has sold out hundreds of sports arenas across the country including selling out Madison Square Garden for two consecutive nights, totaling more than 12 million tickets sold to date.
Dice also starred in numerous feature films including The Adventures of Fairlane, appeared in multiple HBO and PPV specials, released best-selling DVD and a string of multi-gold and platinum selling CDs: The Day Laughter Died and has been profiled everywhere from Entertainment Tonight to Night-line to Penthouse Magazine.
Over the last few years, Clay has been going through resurgence; he had a critically acclaimed recurring role on the final season of HBO's Entourage and this past News Year's Eve, he won rave reviews for his Showtime Special Indestructible, his first 17 years. And this summer, Andrew will be co-starring alongside Cate Blanchett and Alec Baldwin in Woody Allen's forth-coming feature Blue Jasmine.
To this day, Clay remains the only performer banned for life from MTV.
http://www.andrewdiceclayofficial.com
MICHAEL WHEELS PARISE
Affectionately known in the entertainment industry as Wheels. Wheels was part of the original Andrew Dice Clay crew back in the 90′s called "The Brooklyn Bad Boys" where he worked as his opening act and tour manager along with being the best friend of the Diceman. Wheels was a part of history in American pop culture back in the day, when comedy was a crafted art. As a stand-up, Wheels started in the trenches of New York with Chris Rock, Adam Sandler, Jon Stewart and then later moved to Los Angeles and became a hit at the World Famous Comedy Store.
In addition, he created "Cannoli Kings" which become the number one catering company in Los Angeles from 2005 to present with his 385 flavors of Cannoli cream and client list that included: Michael Jackson, Hale Berry, Teri Hatcher, Robin Williams and a slew of other A list celebrities!
Today, Wheels lives in Las Vegas where he headlines regularly along with teaching younger comedians the "Art of the biz" in a workshop called "Hit The Next Level" as well as doing one on one personal coaching and continues to run his "Cannoli Kings" business in Los Angeles, Wheels is also relaunching Cannoli Kings as "Taste This" a catering company for foodie fanatics.
http://wheelsparise.com