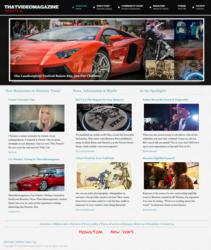 Thatvideomagazine blew it out of the park with this one! I've gotten so many phone calls it's hard to keep up. It's refreshing, it's intriguing, and as we call it-FRESH. - DJ Mas
Houston, Texas (PRWEB) May 01, 2013
Thatvideomagazine, an online business directory, community network, and video magazine, provides local businesses a new way to list and market themselves online. Thatvideomagazine incorporates high quality video, photography, and social media to give businesses the highest possible exposure while building a local community network. Users can not only create profiles and portfolios but also network by interest and neighborhood.
Thatvideomagazine uses new media to improve upon local directories and business review sites such as Yelp, but with more features and options. They have combined all the elements of new media and new marketing, video being at the forefront, to create a better business model for businesses to network, be found, and attract more clients through local search and networking. With YouTube reporting 1 billion users as of March 2013 and Vimeo boasting a cool 14 million, video marketing has never been more relevant. With this in mind, it makes sense for businesses to reach customers this way.
Thatvideomagazine is already making a positive impact on businesses in Houston, Texas, as well as the New York City. They hope to influence both video content and business directories alike with their unique spin on business and video marketing.
Visit the New York Magazine or Houston, Texas Magazine.