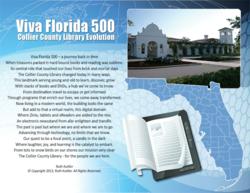 It is both an honor and a privilege to be asked to contribute to this worthy cause. As busy as I am, I promise to make time for it and give it my best.
Naples, FL (PRWEB) May 03, 2013
When Denise McMahon, Senior Librarian Supervisor for Collier County South Regional Library was charged with the duty of coming up with something extraordinary and memorable about the Library to celebrate Viva Florida 500 and to be placed in a time capsule, there was only one solution that came to her mind. She remembered back in 2006 at the time of the 50-year anniversary of the main Naples Library and its eight branches when she asked Ruth Kuttler, local award-winning poet, author of Visions in Verse and graphic artist to contribute an original poem and poster-sized artwork for that occasion – a yearlong celebration held throughout all Library branches.
Because of Ruth's prior contributions and dedication to the library's mission and purpose, Denise hoped that Ruth would not be too busy with her internet business and other projects to write another special poem in honor of the Viva Florida 500 Collier County Event scheduled on May 8th, 2013. Ruth didn't skip a beat in wholeheartedly accepting the invitation. She said, "It is both an honor and a privilege to be asked to contribute to this worthy cause. As busy as I am, I promise to make time for it and give it my best."
In preparation for writing this commemorative poem for Viva Florida 500, a statewide initiative celebrating the 500th anniversary of Juan Ponce de León's arrival on Florida's east coast, Ruth Kuttler, Denise McMahon and Patti DeGroot, Administrative Supervisor, began with an important mastermind conference. The two library leaders provided valuable input that conveyed the Library's mission as well as historical and evolutionary changes that many people may not know about. According to Denise, "We have always been the community hub - here to cherish the people through books, movies, programs for people of all ages to learn, enjoy and grow. But what many people may not know is how we have evolved. We have kept pace with technology and changing times by offering an electronic newsstand and a virtual library where books can be downloaded to popular eReader devices."
This brainstorming session became the basis of Ruth's 18-line rhyming poem with compelling content about the Collier County Public Library – an important landmark that continues to play a central and significant role through its eight physical branches and a virtual remote presence. The poem reflects a historical evolution of the library to meet the changing times and needs of the people it serves. It begins like this:
Viva Florida 500 – a journey back in time
When treasures packed in hard bound books and reading was sublime.
Its central role that touched our lives from brick and mortar days
The Collier County Library changed today in many ways.
This landmark serving young and old to learn, discover, grow
With stacks of books and DVDs, a hub we've come to know.
From destination travel to escape or get informed
Through programs that enrich our lives, we come away transformed...
More about Viva Florida 500 and the Collier County Public Library Event
Visit the Collier County Library website for more information about the Library's momentous event on May 8th in which Ruth Kuttler's poem and artwork will be placed in a time capsule to be opened in 10 years.
More about Ruth Kuttler, her book and speaking…
Ruth is most known locally for her heartfelt and emotionally compelling inspirational poems, messages and rhythmical stories in her book Visions in Verse. This "life changing" collection of poems and artwork literally bring tears to the eyes and joy to the heart. Many of Ruth's poems have been published in anthologies and some have won editor's choice awards. Her poetry has been featured in newspapers, magazines and on the radio.
Ruth presents her poetry and transformational story to groups and organizations as an entertaining program that leaves her audiences wanting more – many people have told her it was one of the best programs they ever attended. A former nurse practitioner, Ruth is still driven to help people but through empowerment and inspiration. Ruth says, "What is most rewarding is when people tell me how my poetry has changed their life. One woman told me how my poetry put her in the right frame of mind to get past some very challenging times. She said she had six of my poems taped to her refrigerator and read them every day." Visions in Verse is available as a paperback, eBook and audiobook.
Ruth can be booked as a speaker in the SW Florida area. Get more information and see examples of Ruth's poems and collection of artwork at VisionsInVerse.com. Book Ruth as a speaker for your next event at Speakers Bureau of Florida.