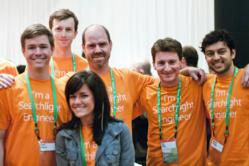 New York, NY (PRWEB) May 01, 2013
Conductor, the first choice in Search Engine Optimization (SEO) technology, today announced it was named number two of the 50 Best Companies to Work for in New York State for 2013. This marks the fourth consecutive year Conductor has received this distinction and high honor, moving up from its fourth place finish in 2012. Conductor was honored at a public awards dinner held in Albany last night.
Created in 2007, these celebrated annual awards are a distinctive program that evaluates and ranks the best places of employment based on employee satisfaction and engagement, as well as workplace practices and policies. To be considered for participation, companies had to enter into a two-part survey process and meet eligibility requirements. A survey was then conducted by Best Companies Group, an independent firm that manages Best Places to Work programs on state, regional and national levels around the world. They evaluated and ranked the best places of employment in the State based on employee satisfaction, as well as workplace practices and policies.
Conductor is one of New York City's fastest-growing technology companies, experiencing 300 percent growth year-over-year. Its leading SEO technology platform, Conductor Searchlight has quickly risen to be the industry standard for enterprise SEO used by major brands and the agencies that support them. With its market-leading vision, unrivaled technology and world-class staff, Conductor continues to be the first-choice for organizations serious about online visibility and competitive edge. The company is routinely recognized for its fun and rewarding work environment and professional opportunities, receiving such awards and accolades as Crain's Best Places to Work in NYC (2009, 2010, 2011 and 2012); Fortune 2012 Great Places to Work; and the Inc. 500 list of America's fastest-growing private companies.
The 2013 Best Companies to Work for in New York State Awards are sponsored by Capital District Physicians' Health Plan and Jackson Lewis, LLP. The program is a partnership of NYS-SHRM, Best Companies Group, Journal Multimedia Corporation and The Business Council of New York. A special publication profiling all 50 winning organizations and their unique employment perks will be produced for distribution to event attendees, higher education institutions, as well as thousands of human resources professionals and organizations across New York State.
Conductor is always looking for bright, enthusiastic professionals to join the team. For a list of current positions available, go to http://www.conductor.com/about/careers.
About Conductor
Conductor is the global leader in SEO technology. Thousands of brands and enterprise marketers use its cloud-based SEO platform, Conductor Searchlight™ to measure, improve and manage their natural search efforts to stay ahead of the competition, increase site traffic and boost revenues. The powerful, highly scalable platform processes massive amounts of data quickly to give users real-time information for better, more informed decision making and to identifying new ways to increase share-of-search that will propel their businesses forward. Offering the most robust performance reporting and measurement tools available in the industry, Conductor arms marketers with the intelligence needed to tie SEO success to business objectives and demonstrate the value of SEO across the organization. One of New York City's fastest growing and most admired technology companies, Conductor is routinely recognized for excellence in business and corporate culture. To learn more, go to http://www.conductor.com or follow Conductor on Twitter @conductor.