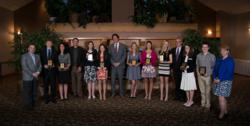 At Burg Simpson we are committed to supporting our community and doing all we can to help young people educate themselves about their civil rights and the importance of preserving the integrity of the American jury system. Peter W. Burg
(PRWEB) May 01, 2013
Denver, Colorado: Burg Simpson is pleased to announce that ten Colorado high school seniors have been selected as the winners of the firm's inaugural College Scholarship Competition, 2013.
Burg Simpson senior shareholder, Peter W. Burg, said, "We are thrilled at the level of response to the 2013 Burg Simpson Scholarship Competition. I would like to thank everyone who took the time to submit an essay and I congratulate our winners. The winning entries were of an extremely high standard. These young people have certainly impressed me and I am convinced that they all have a bright future ahead of them. "
Competition Winners
Anthony Jones - Pueblo High School
Leslie Taylor - Legacy High School
Hunter Bentley - Valor Christian High School
Hannah Jacoby - Denver Christian High School
Alma Vazquez - Hi-Plains High School
Taylor Miller - Legend High School
Kayla Solis - Smoky Hill High School
Marissa Zuccaro - Mead High School
Elizabeth Greenberg - East High School
On Thursday, April 24, 2013 the winning essayist and their families attended a special award dinner Denver. Among the invited guests was local radio presenter April Zesbaugh of New Radio 850 KOA.
High school seniors from across Colorado were asked to write an original essay of 1,500 words or less that demonstrated a strong knowledge and application of the role of the jury system in American life.
Specifically, students were asked to describe why the jury system is essential to protect the rights and liberty of the people. The competition was open to any graduating Colorado senior enrolled in an accredited school, and more than 100 entries were received. Details of Burg Simpson's 2013/14 College Scholarship Competition will be announced shortly.
Speaking at the awards dinner, Mr. Burg, said, "At Burg Simpson we are committed to supporting our community and doing all we can to help young people educate themselves about their civil rights and the importance of preserving the integrity of the American jury system. We are hopeful that next year our scholarship competition will reach even more schools and students."
With offices in Denver, Steamboat Springs, Cincinnati, Cody and Phoenix, Burg Simpson is a firm of award winning trial lawyers practicing in the areas of personal injury, class action, mass tort, medical malpractice, dangerous drug litigation, defective products, insurance bad faith, employment law, workers' compensation, social security and commercial litigation.