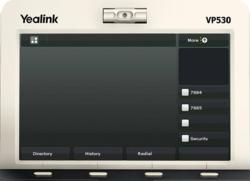 Falls Church, VA (PRWEB) May 06, 2013
Leonid System, the leader in hosted VoIP OSS software, and Yealink, a global Top 5 SIP Phone Supplier announced today their technology partnership with the successful launch of the Loki Visual Device Management plugin for the Yealink VP530.
The Loki Suite is the most widely deployed OSS solution for hosted VoIP services. The Loki Suite includes Loki Provisioning, an activation engine for Hosted VoIP services and Loki Portals, and enterprise portal for Hosted VoIP services. The Loki Suite's Visual Device Management (VDM) feature, allows operators to template soft-key layouts for Hosted PBX users, and allows enterprise administrators to change line keys and feature keys from a web browser.
As a global Top 5 SIP phone supplier, Yealink has been focusing on VoIP products characterized by reliable quality, easy deployment and affordable price for more than a decade. Its product portfolio includes business IP phones, IP video phones and IP DECT phones. The Yealink VP530, a popular powerful business video phone, unifies audio, video and many Unified Communications applications. Yealink's first-class features provide customers with superb user experience, optimal productivity and free collaboration. The VP530 and other Yealink IP phones are fully compatible with BroadWorks® Device Management, Yealink works closely with BroadSoft, the leading global provider of software that enables operators to deliver real-time Unified Communications (UC) over their IP networks, in order to provide seamless touch from the user's deskphone to BroadSoft UC-One services.
"As the global Top 5 SIP Phone Supplier, Yealink is committed to supplying reliable and cost-effective IP Voice and Video Phones to various customers worldwide." said Stone Lu, Senior Vice President of Sales and Marketing, Yealink Inc. "Cooperation with Leonid Systems is very important for us, the Joint solution between Leonid Systems and Yealink will bring easy and convenient deployment experience to our customers.".
"Most operators believe that Visual Device Management is key to competing against the PBX in the enterprise market, our partnership with Yealink allows us to bring a VDM-compliant device to market in a very disruptive way", said Jan Lindner, CEO of Leonid Systems. "We expect this partnership to increase price-performance in the SMB and Large Enterprise space."
About Leonid Systems
Leonid Systems makes cloud communications more salable and scalable with modular software for provisioning, end-user device and service management, and integrated lead-to-cash customer life cycle management.
Over 60 telecom service providers world-wide rely on Leonid for modern, extensible back office and customer support systems that complement Broadsoft, Sonus, Cisco and other VoIP, 4G/LTE and unified communications platforms. Leonids' modular Loki suite is a dramatic departure from traditional monolithic operational support systems, extending industry leading CRM platforms including Salesforce.com and SugarCRM to allow complete order to cash customer life cycle management.
About Yealink
Founded in 2001, Yealink, the global TOP 5 SIP Phone Supplier and a leading provider of VoIP Phone and IP communication solutions, has been focusing on VoIP products characterized by reliable quality, easy deployment and affordable price for more than a decade. Today, customers from over 140 countries rely on Yealink as the backbone of global collaboration to extend the value of network communications.