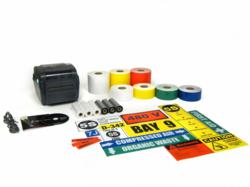 "We found the printer very simple and easy to install and use. The quality of the labels is outstanding!"
Lake Oswego, OR (PRWEB) May 06, 2013
A business that is new in the market or one that has been around a long time and possess the desire to become more successful will need to implement programs to achieve a leaner and safer organization. 5S is one such program that is easy to learn and incorporate into any business. 5S will teach the methods of organization through use of informational labels and colors. Creative Safety Supply is now offering a complete package – LabelTac 4 Industrial Labeling System – that will print industrial strength labels to organize shelving units, warehouse racks, and much more.
5S is all about visual management. The systematic approach to workplace organization and cleaning will transform a disorganized workplace into an efficient running machine. The LabelTac 4 ships with useful templates and symbols, allowing one to quickly and easily start making labels right away. Additionally, unique labels can be created for specific needs of the business. The labeling system comes complete with an Industrial strength printer, variety of colored rolls of labels, print ribbons, built-in Ethernet, and Bartender software in case a business does not have Microsoft Word, Excel, or OpenOffice programs.
Labels can be made to mark items or machinery that are wasteful and need to get moved and disposed of. Labeling racks and shelving will create organization and will reduce confusion and time spent trying to find something. Safety is critical in any organization and when hazardous material and dangerous areas are marked properly, workers and visitors can be assured for their safety.
A business owner commented, "We found the printer very simple and easy to install and use. The quality of the labels is outstanding!"
For more information about LabelTac 4 Industrial Labeling System, please visit http://www.creativesafetysupply.com/Rack-Labels/ or call toll-free (866)777-1360 to speak with a professional representative.