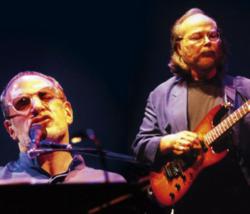 Denver, Colorado (PRWEB) May 02, 2013
Steely Dan, the group that helped define the jazz-rock music of 1970's, is reeling in the years.
Best known for their seven platinum albums between 1972 and 1979, the group split in 1980. They reunited in the early 1990s, cut more tracks, launched a string of sold-out tours and picked up a few Grammys in the process.
Their latest trek, dubbed Mood Swings: 8 Miles to Pancake Day Tour, features original Dan members Walter Becker and Donald Fagen and hits all major markets including Los Angeles, Chicago, Atlanta, and Boston.
They will be backed in their 48-plus dates across North America by eight noted supporting musicians, now appearing as the Bipolar Allstars, and three sublime songbirds called the Borderline Brats.
The road trip opens at the Revel Ovation Hall in Atlantic City, New Jersey on July 19. Dates are set for the Constellation Brands Performing Arts Center in Canandaigua, New York on July 20; the Molson Amphitheatre in Toronto, Canada on July 21; the Jacobs Pavilion in Cleveland, Ohio on July 23; and the Fraze Pavilion in Kettering, Ohio on July 24.
Concerts follow at the Louisville Palace in Louisville Kentucky on July 26; the Fox Theatre in Detroit, Michigan on July 27; the Riverside Theatre in Milwaukee, Wisconsin on July 28; and the Embassy Theatre in Fort Wayne, Indiana on July 30.
Upcoming cities are Highland Park, Indianapolis, St. Louis, Omaha, and Morrison/Denver. The tour is scheduled to wrap at the MGM Grand Theatre in Mashantucket, Connecticut on September 28, 2013.
"Steely Dan tickets are trending very high ahead of their extensive tour across North America, now set for over four dozen dates," said Felina Martinez at online ticket marketplace BuyAnySeat.com. "Although many of the shows begin to sell out closer to show time, we always have a great inventory of tickets available."
"In fact, we're proud to be able to offer music fans the most complete and continuously updated selection of concert tickets, with a worry-free guarantee to protect their purchase," said Martinez.
"To access the full listing of cheap Steely Dan tickets we now have available, customers can go to BuyAnySeat.com and search for Steely Dan – then select their tickets," said Martinez.
Becker and Fagan will be joined by The Bipolar Allstars featuring Keith Carlock on drums, Freddie Washington on bass, Jim Beard on keyboards, and Jon Herington on guitar. Back up vocals will be provided by The Borderline Brats, described as three sublime, soulful songbirds named La Tanya Hall, Carolyn Leonhart-Escoffrey and Catherine Russell.
According to press notes, the tour will treat audiences to selections from Steely Dan's "extraordinary four-decade catalog, rich with infectious tunes, bodacious harmonies, irresistible grooves and sleek, subversive lyrics — punctuated by blazing solo work and rich ensembles. As always, with the adventurous Fagen and Becker, a few surprises may be in store as well."
Steely Dan has sold more than 40 million albums worldwide. Their hits include "Reelin' in the Years", "Rikki Don't Lose That Number", "F.M", "Peg", "Hey Nineteen", "Deacon Blues" and "Babylon Sisters". They issued seven platinum albums between 1972 and 1979, including the groundbreaking Aja in 1977.
After splitting in 1980, they reunited in the early 1990s, launching a string of sold-out tours. In 2000, they released multi-Grammy winner (including Album Of The Year) Two Against Nature and its acclaimed follow-up Everything Must Go in 2003. They were inducted into the Rock and Roll Hall of Fame in 2001. (Source: wikipedia.org)
To shop for cheap Steely Dan tickets, visit BuyAnySeat.com.
About BuyAnySeat.com: An online ticket marketplace, BuyAnySeat.com connects sports, theater and other live entertainment fans to an extensive network of ticket sellers worldwide. The site's simplified listings and navigational tools enable shoppers to easily locate, compare and purchase inexpensive, discounted or lower-priced tickets to virtually all advertised sports and entertainment events around the globe.
The site, which is PCI-compliant and Norton Secured, also provides customers with a complete Worry-Free Guarantee on all ticket purchases. Based in Denver, Colorado, BuyAnySeat.com is a subsidiary of Denver Media Holdings. For more information, please visit http://buyanyseat.com.