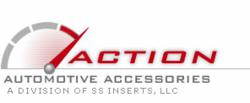 Action Auto Accessories – America's leader in Ford, Dodge, and Chevrolet aftermarket accessories for is now offering free shipping on all online orders.
Scottsdale, AZ (PRWEB) May 02, 2013
Consumers looking for Camaro Accessories, Ford Mustang Parts, or Dodge Challenger Accessories need not look any further than their computer screens because Action Auto Accessories, the leader in aftermarket parts and accessories, has announced that they are now offering free shipping within the Continental United States on any Internet order.
Action Auto Accessories carries one of the largest selections of aftermarket accessories for Dodge Chargers, Dodge Challengers, Corvettes, Camaros, and Mustangs including hard to find items such as Ford Raptor Accessories and Mustang Grilles.
Action Auto specializes in quality Corvette Parts, Ford Mustang Accessories, Dodge Charger and Challenger products, and provides customers with a one-stop shop for everything they need to transform and accessorize their vehicles.
When it comes to offering high quality parts and accessories at affordable prices nobody can beat the experts at Action Auto. Action Auto Accessories saves customers time and money by offering a huge selection of high quality aftermarket parts and accessories that are available only at Action Auto.
Action Auto's already massive selection of aftermarket parts and accessories for Ford Mustangs, Dodge Chargers, Dodge Challengers, Camaros, and Corvettes is growing everyday and items are constantly being added to their inventory. New items include their new Ford Mustang Retro Body Kit, Camaro SS Fuel Rail Covers, Challenger Retro USA Body Kit, and Corvette Rear Window Side Louvers. Action Auto also carries a wide selection of parts and accessories for Toyota, Pontiac, Mercury, and Hummer vehicles.
Action Auto is staffed by a team of experts who know cars better than anyone else and features trusted Corvette parts, Mustang accessories, Dodge challenger accessories, Camaro accessories, Dodge Charger accessories, and Mustang performance parts.
Action Auto Accessories can be contacted at (480) 688-6212 and consumers wishing to take advantage of Action Auto's free shipping offer can visit their website at http://www.actionautoaccessories.com.