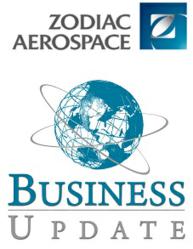 Gainesville, TX (PRWEB) May 03, 2013
Zodiac Seats U.S. announced today that they will be featured on an upcoming episode of Business Update.
Business Update viewers will learn about Zodiac Seats U.S., a subsidiary of Zodiac Aerospace, which designs, tests, certifies and manufactures commercial aircraft seating for virtually every commercial aircraft flying – as well as those still in development. Zodiac Seats U.S. offers a comprehensive range of products including economy, business, and first class passenger seats.
Zodiac Seats U.S. also includes Zodiac Seats California which specializes in passenger seats for regional aircraft manufacturers. Audiences will be amazed by Zodiac Seats U.S.' technical capabilities, its space-creating designs, as well as the fact that it manufactures and assembles innovative, personalized, and high-added-value products for the airline industry.
"Zodiac Seats U.S. is pleased to have been selected by Business Update to showcase our people, products, and investment in the future while we focus upon technologies that help our airline and airframe customers improve the cabin environment which also reduces the aircraft's environmental impact," said Robert Funk, Vice President Sales & Marketing of Zodiac Seats U.S.
"Business Update is excited to partner with Zodiac Seats," said Chad Densen, Production Manager for Business Update. "We look forward to educating viewers on the company's high-added-value products and world-renowned expertise in economy class."
About Zodiac Seats:
Zodiac Aerospace is a world leader in aerospace equipment and systems for commercial, regional and business aircraft, as well as helicopters and space applications. Zodiac Aerospace is mobilized and ready to take action for the future, and continuously develops systems for new aircraft programs (such as Airbus' A350 XWB – the aircraft scheduled to enter into service after Boeing's 787 Dreamliner – or the Comac 919, Irkut's MC-21; Bombardier's C-Series; Embraer's future ERJ; and Mitsubishi's future MRJ). Zodiac Aerospace continues to invest in new technologies and solutions for both standard aircraft equipment and cabin retrofit.
For more information, visit: http://www.zodiacaerospace.com
About Business Update:
Business Update is a corporate-America type series covering the world of business, finance and technology. From Main Street to Wall Street, our award-winning producers take an in-depth look into some of the hottest topics and current trends impacting our society.
For more information, visit http://www.dmgproductions.org/business-update.
About DMG Productions:
The DMG production team consists of producers, cameramen and editors that have worked for CNN, TLC, Discovery, and other major news and cable networks. Our staff includes personnel specialized in various fields from agriculture to medicine, independent films to regional news. Our field producers utilize the core concepts from our producers who storyboard our programs, and work closely with experts in the field to develop the educational programs. This powerful force enables us to consistently produce commercial-free, educational programming that both viewers and networks depend on.
Contact Info:
Chad Densen, Production Manager / DMG Productions / Business Update
(866) 496-4065 X 801
chad(at)dmgproductions(dot)org