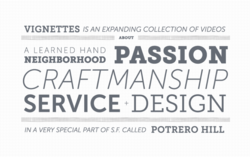 Sköna Vignettes was born of our desire to share Potrero Hill with people outside of San Francisco
San Francisco, CA (PRWEB) May 02, 2013
San Francisco's Potrero Hill neighborhood assumes the spotlight once again as Sköna Advertising, Inc. , a boutique ad firm based on the Hill, today launched a series of one-minute vignettes chronicling the people and businesses that embody the plucky, artsy spirit of the southeast corner of the City by the Bay.
Called simply Sköna Vignettes, the collection of videos features 10 businesses and organizations that express the artisan, learned-hand ideals that have made Potrero Hill famous. This small pocket of San Francisco has surged in popularity in recent years, marked by an influx of young techies and upper-income professionals who hope to preserve the neighborhood's originality and pluck.
"Sköna Vignettes was born of our desire to share Potrero Hill with people outside of San Francisco – people who don't have the luxury of spending a weekend on the Hill and experiencing the vibe in person," said Scott Springer, creative director and partner, Sköna Advertising, Inc. "What once was an industrial, downtrodden area is now such a hot spot that The Wall Street Journal and New York Times have taken notice, but the spirit of the neighborhood has remained unchanged."
Many of the businesses featured in Sköna Vignettes are household names including Recchuiti Confections, Rickshaw Bagworks and Papa November. The series also showcases the people behind the Taste of Potrero – an annual food event and fundraiser that helped rescue a neighborhood elementary school from closure – people whose passion and industry echo the spirit of the Hill.
The series includes a vignette of Sköna, too, as the company is based in Potrero and its owners hail from the Hill. "Sköna is cut from the same cloth as the other businesses in the series," said Jenny Sagström, Sköna's president and partner. "We're passionate about our craft, and we're also blue-collar, roll-up-your-sleeves at our core."
The Sköna Vignettes series can be viewed at vignettesf.com.
About Sköna Advertising, Inc.
Sköna is a Potrero Hill-based, full-service advertising and design shop focusing on business needs from a holistic communications point of view. A small firm with big creative muscle, Sköna's award-winning work is based on this premise: We no longer have the luxury of "talking" to consumers; we must engage them in the conversation. This is where inbound and outbound marketing come together. For more information, visit skona.com.