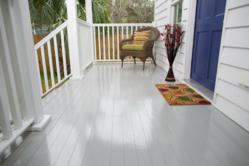 If porches indeed represent a shift in American values toward more community and neighborliness, this could represent a very positive trend for our country.
Kingsport, Tennessee (PRWEB) May 03, 2013
The great American porch is back in style. A Census survey reported that nearly two-thirds of new homes built in 2011 had a porch (65 percent), compared to 1995 when only 42 percent of new homes had a porch. The Census data also revealed that porch construction has been on the rise for nearly 10 years.
A USA Today story hinted that the growing popularity of porches may have to do with how Americans want to live now—in smaller homes and denser communities that promote walking and interacting with neighbors.
Porch Allure
Most often built facing the street on the front of the house, a porch naturally establishes a connection between the home and its surroundings. Porches offer privacy but also the option of interacting with neighbors as they pass by.
The fact that porches generally require less maintenance than larger, fully exposed outdoor living areas also adds to their appeal, especially given new building materials designed for longevity. An example is Perennial Wood™ porch flooring, which is a new line of real wood tongue-and-groove porch flooring. Made possible by a proprietary process called TruLast™ Technology, it is three times more dimensionally stable than unmodified wood and resists changes from moisture for decades. Without sacrificing the beauty of real wood, it resists the shrinking and swelling that can lead to separation between boards, cupping, and warping. The new porch flooring is available at select building materials dealers in New England and the South Atlantic states of North Carolina, South Carolina and Virginia.
Insight From the Past
History can also offer insight into why porches are rebounding, as they have long been a distinctive feature of American architecture. Early in the 20th century, porches were nearly universal, reflecting the social values of the time: family and community. The porch was an "outdoor living room" of sorts, offering refuge from a swelteringly hot house while interacting with neighbors and friends.
"In many ways, a porch was a semiprivate space that was also a social outlet—benefits that may very well be contributing to their growing popularity today," said Brant Mitchell, market development manager for Perennial Wood.
Preserving History
In addition to increased numbers of porches on new homes, vintage porches are also being preserved. The Historic Charleston Foundation (HCF) and Habitat for Humanity in Charleston recently partnered to restore a circa 1919 freedman's cottage on Romney Street—a historic street just outside of Charleston's designated historic district. Freedman's cottages are small, one-story homes built as affordable housing for freed slaves following the Civil War. One of their distinct architectural qualities was a side porch, or piazza.
The renovation included rebuilding the house's historic piazza, among other major improvements such as repairing and replacing windows and installing a new roof. HCF was eager to use a long-lasting material for the porch and chose new Perennial Wood porch flooring. The organization was attracted to the exceptional longevity and beauty of Perennial Wood porch flooring and felt it would be well suited for the intricacies of restoring historical buildings, as well as Charleston's wet, humid climate.
Dan Jones, the Charleston Habitat for Humanity construction manager and one of his key volunteer contractors, Herman Roden, were impressed with the porch flooring. "The beauty and workability of Perennial Wood made it a perfect fit for this project," Jones said.
Porches as a Cultural Icon
"As represented by restoration projects and their growing popularity in new construction, porches are an important part of American culture and architecture," Mitchell said. "Perhaps the cultural forces driving the focus on porches—both old and new—combined with the longer-lasting materials available today, will fuel an even greater desire for porches. If porches indeed represent a shift in American values toward more community and neighborliness, this could represent a very positive trend for our country."
More information about the Charleston HCF/Habitat for Humanity Project is available here, and additional information about Perennial Wood porch flooring is available here.