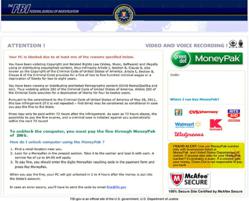 San Luis Obispo, CA (PRWEB) May 03, 2013
The FBI Virus has kept security experts and information technology experts busy this past year, but there doesn't seem to be any end in sight for this type of ransomware scam. The FBI Virus, along with other fictitious names, such as the Department of Justice Virus, use social engineering to appear as a legitimate message from a government branch. Upon being infected with the ransomware-type infection, many users discover frightening warnings that they've committed a serious crime, and must pay a ransom to unlock the computer.
Dan Steiner, President of OnlineVirusRepair.com says, "This type of virus is particularly dangerous due to the risk of fraud, identity theft, and other serious complications. Users who have been infected by this type of virus should seek help right away, and absolutely disregard any messages about sending money to the criminals who created the virus."
To help victims from the FBI Virus infection, OnlineVirusRepair.com has developed a new virus removal tutorial at no charge, which provides users with updated steps on how to remove the FBI virus. Steiner continues to say, "These viruses are constantly changing, and we do our very best to keep our virus removal tutorials updated. To my knowledge, our guide has the most effective methods for removing even the trickiest variations of the FBI ransomware virus."
If infected users are unable to use the removal guide, OnlineVirusRepair.com also provides remote virus removal services that can usually be completed in an hour or less. The process involves calling or chatting with a US-Based technician, who can provide assistance and remotely clean up the infected computer.
Unlike many other tech support companies, OnlineVirusRepair.com avoids contracts and other sketchy business tricks. Steiner concludes "If you've been infected by a virus, the last thing you want to deal with is sketchy technical support. We take the risk out of the service by only billing after the removal process is complete, and backing our work for 90 days."