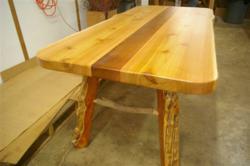 We call them
ʻrefined rustic'
Hamilton, Washington (PRWEB) May 06, 2013
TimberMantels.com, a local woodcrafting business that has been making custom wood fireplace mantels since 2000, is now offering handcrafted, original design tables, including coffee and end tables, hall tables and dining tables.
Each table is individually designed and created using a variety of wood species, including Pacific Yew, Old Growth Cedar and Juniper, often in combination, and occasionally embellished with stone and other unique pieces of wood. "People are drawn to the the rich color and character of the wood", says owner Mike Adkinson; "It is almost impossible for two pieces to look alike, so you have something that is truly one-of-a-kind."
Like the timber fireplace mantels, the tables serve as functional art. "We call them ʻrefined rustic'. Interior design today is often very eclectic; our tables and fireplace mantels add a unique feature to many different styles of decor", says Phyllis Adkinson, co-owner.
TimberMantels.com is showing their handcrafted wood tables at the Chuckanut Bay Gallery & Sculpture Garden in Bellingham, WA. Chuckanut Bay Gallery has long been a supporter of American Craft - "made with fingerprints, a story and in the US." (chuckanutbaygallery.com)
Timber Mantels is a small family-owned and operated business located in the foothills of the North Cascades Mountains in western Washington and has been crafting custom rustic wood fireplace mantels since 2000. Timber Mantels is driven by a passion for the beauty of wood and a commitment to customer satisfaction. Timber Mantels obtains wood for mantels and tables through sustainable practices whenever possible, and participates in reforestation and forest/trail maintenance projects, helping to provide the opportunity for others to appreciate and enjoy the beauty of wood as well. For inquiries, photos and more information, please visit the Timber Mantels website http://www.timbermantels.com, or on Facebook at http://www.facebook.com/timbermantels or call 360-826-3414.