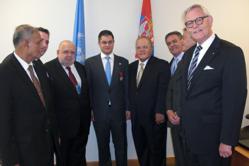 New York, NY (PRWEB) May 03, 2013
50 years ago on 24th April 1963, the United Nations Conference on Consular Relations adopted the Vienna Convention on Consular Relations and outlined the structure of relations between Consuls and independent nations. The World Federation of Consuls is governed by the Vienna Convention on Consular Relations, comprising of 79 articles providing guidelines for operation of Consuls in host nations.
The World Federation of Consuls was established in Copenhagen in October 1982 as the Federation Internationale des Corps et Associations Consulaires, abbreviated as FICAC to bring together Consular Corps and Consular Associations to share experiences and to coordinate efforts to enhance the effectiveness and status of the Consul. United Nations recognizes World Federation of Consuls as an NGO with ECOSOC Status and has the similar recognition by the European Union, and we are also recognized by the Organization of American States.
The World Federation of Consuls on 24th April 2013 celebrated the 50th Anniversary of the Vienna Convention and congratulated the United Nations on its development. The reception was held at 821 United Nations Plaza, New York, and FICAC was represented by President Hon. Arnold Foote and Mrs. Foote, Secretary General Hon. Aykut Eken and Hon. Mrs. Gonul Eken. It was attended by 75 countries including President of UN General Assembly H.E. Vuk Jeremic, Ambassadors, Permanent Representatives of the various countries to United Nations, President of the Consular Corps New York and more than 50 Consular representatives. The President of World Federation of Consuls Hon. Arnold Foote in his speech at the reception, congratulated the United Nations and said that the practice of mutual respect and adherence to the principals recognized in the Vienna Convention on Consular Relations 1963 will continue to guide the promotion of Consular cooperation in each member country.
UN Secretary General H.E. Ban Ki-Moon has also issued a message on this occasion to welcome the commemoration of the fiftieth anniversary of the Vienna Convention on Consular Relations, which opened for signature on 24 April 1963. Effective consular relations make an important contribution to the promotion of harmony and cooperation among states. The convention provides clarity regarding the functions, privileges and immunities of consulates and consular officials. In article 36, which creates consular notification and access obligations in the event of detention of foreign nationals, the convention took the useful step of largely codifying customary international law.
The UN Secretary General in his message said that he is pleased that today, 175 states are party to the Vienna Convention and is confident that this instrument will continue to play a valuable role in advancing friendly relations among nations.