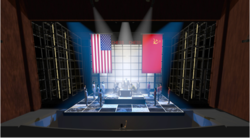 Las Vegas, NV (PRWEB) May 03, 2013
Congratulations to Alan Hanson, winner of the 2013 iSquint.net and Stage Directions Student Lighting Design Competition. Hanson's design for the musical Chess was selected by the judges as the grand prize winner.
To view images from Hanson's winning design, visit his website: http://www.alanmhanson.com.
Hanson will receive a professional license of Vectorworks® Spotlight 2013 with Renderworks® software, a personal license of Lightwright™ 5, a single license of Field Template™ SoftSymbols V3.5, a copy of Light Plot Deconstructed by Gregg Hillmar and a copy of Entertainment Design: Scenery, Lighting, and Sound with Vectorworks Spotlight by Kevin Lee Allen.
Hanson is a Montana native who has spent years traveling and working in the entertainment industry. He is a student in the master of fine arts program at the University of Cincinnati College-Conservatory of Music (CCM) studying Lighting Design. In addition to Chess, Hanson's design work at CCM has included the productions Don Giovanni, Arcadia, The Threepenny Opera and Parade. He also designs the annual production of The Medora Musical in Medora, North Dakota. He has toured nationally with the Montana Repertory Theatre, Chamber Theatre of Boston, Troupe America Inc. and the Moscow Ballet. In addition, Hanson has designed productions throughout Montana for companies such as Montana Rep Missoula, Bigfork Summer Playhouse, Missoula Children's Theatre and Fort Peck Summer Theatre.
The iSquint.net and Stage Directions Student Lighting Design Competition is sponsored by Nemetschek Vectorworks, City Theatrical and Field Template. This year, the panel of judges included lighting designer, writer and editor Justin Lang from iSquint; software engineer and lighting design industry expert Kevin Linzey from Nemetschek Vectorworks; author and lighting designer Steve Shelley of Field Template, developer of Soft Symbols; lighting designer, author and Vectorworks expert Gregg Hillmar; lighting designer and developer of Lightwright John McKernon; and artist, author, and scenic and lighting designer Kevin Lee Allen.
About iSquint.net
iSquint.net covers new technologies and services within the entertainment lighting industry. iSquint specifically covers new and interesting products that working professionals, students and enthusiasts in the industry want to know about. iSquint also provides reviews and greater understanding of lighting products by talking with industry professionals and testing out and reviewing lighting gear. For more information, visit isquint.net.
About Stage Directions Magazine
Stage Directions Magazine is dedicated to all aspects of theatre and reaches more than 9,500 venues—from the largest theatrical houses to high schools with a theatre on campus, and everything in-between, including universities and colleges, performing arts centers, churches, community theatres, equity theatres and museums. For more information, visit http://www.stage-directions.com.
About Nemetschek Vectorworks, Inc.
Nemetschek Vectorworks, Inc. is a wholly owned subsidiary of the Nemetschek Group and has been developing software since 1985. The Vectorworks line of software products provides professional design solutions for more than 450,000 designers in the AEC, entertainment and landscape design industries. With a tradition of designing flexible, versatile, intuitive and affordable CAD and BIM solutions, Nemetschek Vectorworks continues to be a global leader in 3D design technologies. For more information, visit http://www.vectorworks.net.
About Lightwright
Lightwright is a unique cross between a spreadsheet and a database, designed specifically to manage professional lighting design paperwork. It has been the de facto industry standard since 1982, and it won the Lighting Dimensions International Software Product of the Year award in both 1998 and 2003. In 2004, it was honored with an Eddy Award. Lighting Dimensions magazine named it one of the Products That Changed Our World. Lightwright was written by John McKernon, a professional designer and an associate designer to Ken Billington. For more information, visit http://www.mckernon.com.
About Field Template
Field Template™ has been creating award-winning lighting symbol products for the international theatrical community since 1989. Hardware products include plastic drafting stencils, such as the Stage Fixture, Striplight, and Field Template Rules (in a variety of imperial and metric scales). SoftSymbols are extensive symbol collections created in the Vectorworks environment. All products are designed by Steve Shelley, professional lighting designer and author of "A Practical Guide to Stage Lighting, 2nd Edition." For more information, visit http://www.fieldtemplate.com.