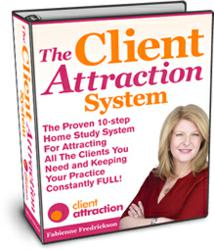 When you shift your marketing practices, everything changes and you start living a fuller, richer, more abundant life. That's why I created the Client Attraction System and it works like nothing else. - Fabienne Fredrickson
Stamford, CT (PRWEB) May 05, 2013
Fabienne Fredrickson, founder of ClientAttraction.com and one of the most influential and highly acclaimed marketing mentors in the world has just announced that her fully updated and up-leveled Client Attraction System is now available. The Client Attraction System is Fredrickson's signature 10-step proprietary system that has helped thousands of entrepreneurs for years attract all the clients they need by maximizing their marketing and client attraction efforts. By transforming their marketing over a short period of time, entrepreneurs transform their business, their income and their life.
"When you shift your marketing practices, everything changes and you start living a fuller, richer, more abundant life. That's why I created the Client Attraction System and it works like nothing else," states marketing guru Fabienne Fredrickson. "Don't take my word for it though. Read about the extraordinary results that thousands of my students of the CAS have been getting."
The system, which has been used for over 12 years by entrepreneurs worldwide, is now available as a fully digital product in addition to the traditional hard copy version. Some game changing bonuses (above and beyond all of the templates, scripts, checklists, and examples) have been added to the package as well, including access to a private, highly interactive and collaborative Facebook group, a Daily Accountability email from Fabienne to keep students on track, a Daily Accountability Buddy for taking even bigger action, and 24/7 lifetime access to the program.
This life-changing program is a systematic approach to discovering the marketing strategies that will help entrepreneurs get more clients and make a lot more money, without the effort they may be experiencing right now. Here's just a sampling what entrepreneurs will learn:

How to make their services stand out in the marketplace
How to set rates that sell
How to create powerful referral partnerships and strategic alliances
How to close the sale without ever feeling sales-y.
Users of the Client Attraction System have been experiencing huge business breakthroughs for years. Student Sandy Grason states, "After going through Fabienne's Client Attraction System, I launched my first high-level coaching program. In less than 4 weeks, I closed more than $15,000 in new clients using her templates. I used all of her suggestions and followed her program exactly and developed materials based on her approach. This was all new information to me! I was able to incorporate so many parts of her program into my business while still being very authentic. Her system for attracting and getting new clients works like a charm!"
To find out more, including video of Fabienne, client testimonials, benefits and results, visit http://www.theClientAttractionSystem.com.