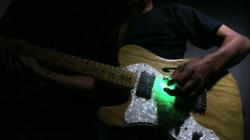 "...there doesn't seem to be any compromise to the feel or playability... People are looking for new ways to improve their stage presence and I think this is a great way to accomplish that..."
San Francisco, CA (PRWEB) May 14, 2013
Whether music is performed on a stage in front of thousands of people or on a couch with close friends, rhythm is an essential part of the experience. Many guitarists make use of complex and expensive lighting equipment to emphasize the rhythm, but such equipment is often impractical. The Firefly Pick, a recently launched Kickstarter project, provides a simple new tool to guitar and bass players by flashing embedded LED lights in time to the music. The result is a unique visual effect - a rhythmic light show synchronized to music as it is being played.
"We wanted to create something which would automatically track the rhythm," said co-creator Brandon Williams, "so that it emphasizes the music rather than distracting from it."
The Firefly Pick contains an embedded electronic sensor system to detect playing motion, and carefully tuned algorithms to disregard unrelated movements. By using the motion of the guitar pick to activate the lights, the Firefly Pick accommodates fast and slow action as well as rapid changes in tempo, and always create a light show perfectly in time with the music.
The Firefly Pick is powered by a rechargeable ultra-thin lithium-ion battery, and is compatible with standard USB micro plugs. The light diffusing shell is assembled so that the playing edge is seamless, allowing for smooth picking action.
Any guitarist can incorporate a Firefly Pick into their music, whether they are a professional or an amateur. The Firefly Pick is sized like an ordinary heavy (3mm) guitar pick. Professional guitar player Ron Work commented, "It actually feels like a normal guitar pick. I mean, there doesn't seem to be any compromise to the feel or playability, and that's why I think it will make a great addition. People are looking for new ways to improve their stage presence and I think this is a great way to accomplish that."
The Firefly Pick Kickstarter campaign launched on May 14th, and people interested in receiving a Firefly Pick or just supporting the project can check it out at this link.
Co-creator Peter Holm believes that the Firefly Pick has a broad appeal. "It's not just something for rock stars to use during their guitar solo," he said, "it really draws me into the music I'm playing in a captivating way that I didn't expect. I'm excited to see what other people can do with it."
The company, Capacitron, is a start-up consumer electronics company based in Silicon Valley focusing on high performance and high quality products. Brandon Williams and Peter Holm, the creators of the Firefly Pick, are inspired to create products that push the boundaries of everyday electronics.