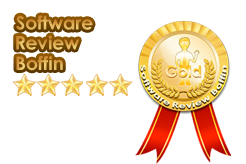 The Boffin team emphasized that today most DVD burning software products offer plenty of media burning solutions in one single package.
New York City, NY (PRWEB) May 11, 2013
Software Review Boffin, a reputed software review website, today announced its top 5 list of the most efficient and professional DVD burning software products for 2013. The top 5 list was the result of vigorous evaluation of numerous DVD burning software packages, and the review resulted in Power2Go 8 being awarded the No. 1 place and the Boffin five-star award.
The top 5 list also includes DVDFab DVD Copy in fifth place and Wondershare DVD Creator for Mac at the fourth place position. Rankings for No. 3 and No. 2 were awarded to almost equally efficient programs Joboshare DVD Creator and Ultra DVD creator respectively. However, the most complete, professional, and user-friendly DVD burning software is Power2Go 8, according to the Boffin team of reviewers. More specifically, Power2Go 8 is a comprehensive media burning tool that can create, recover, and safely play any media file.
The Boffin reviewers explained that much work has been dedicated to creating their 2013 top 5 DVD burning software list, and urged people wishing to purchase such software to consult the Boffin reviews to get an idea of what features, solutions, and shortcomings each option holds for them. Additionally, the software expert reviewers commented that when choosing a DVD burning software product, it is crucial to opt for comprehensiveness over specialization. The Boffin team emphasized that today, most DVD burning software products offer plenty of media burning solutions in one single package. Therefore, as they underlined, it is not a good choice to opt for a specialized product alone.
According to the DVD burning software reviews on the Boffin website, those reviews are subject to change as new versions or upgrades are expected to be released later in 2013. The Boffin reviewers clarified that the final rankings of the DVD software products was a difficult process, as the top software had sometimes only marginal differences between them. The Boffin reviewers also explained that the reviews are not final in that they're constantly updated, especially when new software enters the market.
Software Review Boffin reviews the latest technological products in demand on the market right now. They provide expert, honest and straightforward reviews so customers can objectively measure if a product, especially software is well worth it before making their purchase.
To learn more about Software Review Boffin visit http://www.softwarereviewboffin.com