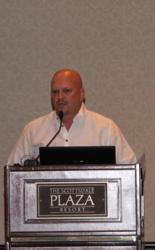 San Diego, CA (PRWEB) May 05, 2013
David Gergen, President and Founder of Pro Player Health Alliance (PPHA) is heavily involved with legendary NFL Greats and spreading sleep apnea awareness throughout communities by taking these players to the general public on the national campaign titled "Tackling Sleep Apnea". Mr. Gergen has found an interesting and productive way to raise awareness of the deadly disorder by teaming up with America's idols and top doctors to speak in communities across the country at free events open to the publice.
After treating over 150 NFL greats, PPHA teaming up with the likes of Derek Kennard, Mike Haynes, Tony Dorsett, Warren Moon, Erik Dickerson, Marcus Allen, Roy Green, Dave Krieg, Mark Walczak, Larry Fitzgerald and Carl Eller to speak with fans who suffer with snoring and sleep apnea has quickly become an event worth talking about. David Gergen says, "Creating Pro Player Health Alliance has brought a new wave of awareness to the public by NFL greats sharing personal struggles, experiences and losses with sleep apnea". According to PPHA, over 60% of the NFL and former NFL players are suffering from sleep apnea. Who better to speak and share personal stories to the public?
The public awareness event at Scripps Memorial Hospital this month will be hosted by one of the country's most experienced and well-known doctors, Dr. Bradley Eli. By providing all solutions to sufferers of sleep apnea that are available on the market, Dr. Eli will find a way to treat any patient even if it means trying every nonsurgical treatment available. While most sleep doctors specialize in one therapeutic approach, Dr. Eli has developed a sleep management system that puts the patient's needs, rather than the doctor's specialty, at the forefront. Dr. Eli and his patients discuss a variety of sleep treatment options to help assure each patient is matched to the most effective therapy.This initial approach combined with a quality management plan allows Dr. Eli to achieve a significantly higher rate of treatment compliance among his sleep patients, thereby reducing their risk of stroke, heart attack, and other sleep-related risks.
Dr. Eli says, "After years of watching sleep patients try to navigate a complicated system, I decided to develop a better way. Patients can and should have every non-surgical treatment available to them in one location. Together we decide the treatment that best fits their lifestyle and their personal comfort level. Working with patients to choose this pathway is as complicated and important as the diagnosis itself".
David Gergen, Pro Player Health Alliance, and Dr. Eli invites anyone that snores, has morning headaches, unexplained fatigue during the day and anyone who wakes up gasping for air to invest in their own health and sleep by attending this hour long free event. Come meet Roy Green, Mike Haynes, Mark Walczak and many more NFL greats to educate yourself on the deadly disease that is Sleep Apnea by registering for this event at http://pphasandiego.eventbrite.com/
Event Details
Date: May 21, 2013
Time: 7:00 PM
Location: Scripps Schaetzel Center, 9890 Genesse Ave La Jolla, CA
About David Gergen
David Gergen, CDT and President of Pro Player Health Alliance, has been a nationally respected dental lab technician for over 25 years. He received the award for "The Finest Orthodontic Technician in the Country" given by Columbus Dental in 1986. He also has been appointed chair of the dental wing of the American Sleep and Breathing Academy a national interdisciplinary academy dedicated to sleep training and education with over 60,000 members. David rolled out of bed on September 12, 1981 and had his career "ah ha" moment. He knew he was going to be an orthodontic technician and he knew he was going to help people all over the country to help treat their sleep disorders in partnership with their dentists. He has worked for some of the pioneers in the orthodontic and sleep dentistry fields. He was the personal technician for the likes of Dr. Robert Ricketts, Dr. Ronald Roth, Dr. A. Paul Serrano, Dr. Clark Jones, Dr. Harold Gelb, Dr. Joseph R. Cohen, Dr. Rodney Willey, Dr. Allan Bernstein, and Dr. Thien Pham. One of his proudest achievements is receiving The National Leadership award for Arizona Small
About Pro Player Health Alliance
The Pro Players Health Alliance (PPHA) is an organization dedicated to helping former NFL players, through providing testing and treatment options for those who suffer from sleep apnea. In addition, the PPHA is dedicated to integrating education and raising sleep apnea awareness, in a fun and memorable way.