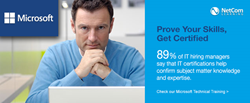 Microsoft SharePoint 2013 is a fundamental application that IT professionals and developers should be conversant with
New York, NY (PRWEB) May 07, 2013
NetCom Learning is offering a free interactive webinar on Developing Apps for SharePoint 2013 on May 9, 2013 from 1:00 to 2:00 PM EST. NetCom Learning is a Microsoft Gold certified partner for learning solutions (CPLS), offering the latest in Microsoft technology training provided by experienced and fully authorized instructors. The interactive webinar on Apps for SharePoint 2013 will be led by Microsoft MVP, Jerry Yasir.
Microsoft SharePoint 2013 provides a new cloud app model for developers that uses web standards that allows for the creation of new apps that utilize the languages, and tools that are familiar to SharePoint users. The new Cloud App Model for SharePoint 2013 that builds on the standard functionality of SharePoint while integrating web standards.
"Microsoft SharePoint 2013 is a fundamental application that IT professionals and developers should be conversant with," said Russell Sarder, CEO of NetCom Learning. "The new App Model for SharePoint 2013 extends the capabilities of the application and offers IT professionals a way to build on a business's value, services and improve customer service," said Sarder.
In this session we will cover:

The new App Model for SharePoint 2013
Configure App Development for SharePoint on Premise
How Developers can Kick Start App Development using SharePoint Online
Developing SharePoint Hosted Apps
Developing AutoHosted Apps
Deploying Apps to SharePoint Online and App Catalog
Q&A with Jerry..
Jerry Yasir, the leader of the webinar, is a certified trainer with Microsoft and founder and President of Riyadh SharePoint User Group (RSUG.net). He is an experienced speaker and trainer for Microsoft around the world, having worked with Microsoft for over nine years. Jerry holds a Master's degree in Computer Sciences and in addition to being a Microsoft Certified Trainer (MCT); he also holds the MCPD, MCTIP, & MCTS for SharePoint and the MCTS for Share Point Server, MCPD, and MCITP certifications.
This event includes a sneak peek at NetCom's acclaimed hands-on SharePoint 2013 training programs: SharePoint 2013 Training, also offered via Live Online delivery.
Why NetCom Learning for Microsoft Technical Training?
NetCom Learning is simply the most trusted name in both business and IT training. NetCom Learning is a Microsoft Gold Certified Partner for Learning Solutions (CPLS). CPLS is the premier training channel and delivery mechanism for Microsoft training content. NetCom Learning was honored by Microsoft as the 2007 Worldwide Partner of the Year for Learning Solutions. Selected as the Number One CPLS from over 1400 worldwide CPLSs, Microsoft recognized our commitment and ability to deliver high-quality learning services using a consultative engagement model. Software Assurance Vouchers can only be redeemed with CPLS training partners.
NetCom Learning's Microsoft classes are taught using top notch instructors who are also Microsoft Certified Trainers and fully authorized by Microsoft to teach the training material. The courseware used in the classes is Microsoft Authorized and include free evaluation software and online training. Microsoft lab requirements are strictly adhered to, and successful candidates receive their Certificate of Completion from Microsoft directly for most courses.
Upcoming SharePoint 2013 Training Events
May 20 | MCSE: SharePoint
June 10 | MCSE: SharePoint Boot Camp
Jun 17 | MCSE: SharePoint
August 26 | MCSE: SharePoint Boot Camp
To get more information on SharePoint classes or to sign up for the webinar go to http://www.netcomlearning.com/webinars/88555/Free-Webinar-Developing-Apps-for-SharePoint-2013--101-training.html?WebinarID=192&advid=412.
Contact us also at info(at)netcomlearning(dot)com or 888-563-8266.
About NetCom Learning
NetCom Learning is an innovative leader in IT, business and executive training to companies, individuals, and government agencies. Since its inception in 1998, NetCom Learning has trained over 80 percent of the Fortune 100, serviced over 45,500 business customers, and advanced the skills of more than 71,000 professionals through hands-on, expert-led training, with the organization maintaining an average instructor evaluation score of 8.6 out of 9. NetCom Learning was recognized by Microsoft Corporation as its Worldwide Training Partner of the Year and named thrice to Inc. Magazine's list of fastest growing private companies in America. The organization was also recently named to the 2012 Top 20 IT Training Company by TrainingIndustry.com and was named "Company of the Year" by the American Business Awards.
The purpose of NetCom Learning is to promote the values of lifelong learning