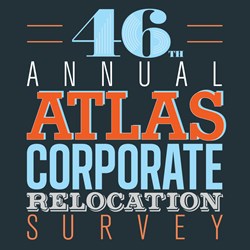 This year proves to be another positive sign for corporate America and the economy's effect on relocation.
Evansville, Ind. (PRWEB) May 06, 2013
According to one of the nation's leading movers, Atlas Van Lines, the past year was one of continued recovery in corporate relocation after the turnaround gained traction in 2011. In response to the 46th Annual Corporate Relocation Survey, about one-third (36 percent) of firms saw relocation volumes increase and almost one-third (30 percent) saw budgets increase as well.
Nearly half (45 percent) of large firms experienced an increase in volumes. Internationally, the trends also reflect positive statistics with nearly half of firms handling international relocations citing an increase in volume.
Expectations for 2013 reveal that roughly six out of 10 firms expect volumes and budgets to stay at 2012 levels, with more than one-fourth (27 percent) of firms expecting further increases in relocation volumes overall and internationally.
"Since the drastic decrease in overall relocation volume hit in 2009, the industry has pushed through and held steady," said Jack Griffin, president and COO of Atlas World Group. "This year proves to be another positive sign for corporate America and the economy's effect on relocation. We've been monitoring the industry for 46 years, and our statistics have done a great job exposing the trends and predictions seen by relocation firms across the globe."
Basic 2013 Results:

On average, companies relocated 20 to 49 employees in 2012.
Twenty-seven percent of companies plan to relocate more workers this year than last, with only 20 percent expecting increased relocation budgets.
Forty-six percent of companies state that the growth of the company had the most significant impact on the number of employee relocations in 2012.
Fifty-three percent of respondents believe the U.S. real estate market fared better in 2012 than in 2011, and 60 percent of respondents believe it will be even better in 2013. This level of optimism regarding the real estate market is up 25 percent from what was expected last year.
The majority of companies are offering full reimbursement for transferees (63 percent) and new hires (53 percent), which historically has been the most popular form of reimbursement.
The use of lump sum payments continues to have an increased level of popularity; around half of firms indicate they use this type of reimbursement for transferees or new hires to some degree, similar to the past five years. The most popular use is for reimbursing new hires (61 percent) and entry-level employees (49 percent).
After a switch in 2011, the Midwest (37 percent) is back on top as the most popular destination within the U.S. However, the Northeast and South are not far behind (31 percent), tied as the second most-popular destination to transfer. Within a single country, the U.S. ranks third (30 percent) behind Western Europe and Asia (tied at 31 percent) for the most relocations in 2012. Asia remains the most frequent relocation destination (43 percent) for transferees relocating from the U.S. to another country or region. Western Europe (31 percent) and the United Kingdom (25 percent) complete the top three most popular destinations for transferees relocating internationally from the U.S.
Decrease in declines, steady in incentives
The reluctance toward moving is in a downward trend. Down three percent from 2011, 54 percent of employees declined the opportunity to relocate in 2012. However, the majority of firms (76 percent) indicate they offered incentives to encourage employee relocations in 2012. Extending temporary housing benefits was the most popular incentive and was offered by nearly two-thirds or more of firms across company size. Relocation bonuses, loss-on-sale protection and cost of living adjustments (COLAs) round out the top four incentives offered (48 percent, 38 percent and 37 percent, respectively).
The top three reasons employees or new hires were reluctant to relocate include:

Housing and mortgage concerns: 65 percent;
Family issues/ties: 61 percent; and
Spouse's/partner's employment: 45 percent.
2013 Survey Fast Facts

Eighty-four percent of companies have a formal relocation policy, and 78 percent of the policies are developed by the company's centralized relocation department.
Seventy-seven percent of companies have core coverage and flex policy aspects, with fifty-four percent of them including relocation benefit coverage of specific items dependent on employee levels and categories; 46 percent indicate it is included irrespective of employee level/category.
More than half of all relocations last year were new hires (52 percent).
Fifty-nine percent of companies are not using and do not plan to use "alternative assignments."
Employees age 36-40 still remain the most frequently relocated salaried employee for 2012 (40 percent).
Forty percent of companies assist an employee's spouse or partner in finding employment in the new location by providing services such as networking assistance (53 percent).
The top three items companies reimburse transferees and new hires for include packing all items (72 percent), moving an automobile (70 percent) and moving unlimited weight of household goods (45 percent).
More than 80 percent of companies pay expenses directly for both transferees and new hires (87 percent and 81 percent, respectively).
More than 415 corporate relocation professionals completed the online survey between January 22 and March 8. The respondent demographic of the annual corporate relocation survey includes human resources/personnel and relocation/mobility services departments for service, manufacturing, wholesale/retail, financial and government organizations. More than half of the companies have an international presence and relocate employees between countries. Respondents have relocation responsibility and work for a company that has either relocated employees within the past two years or plans to relocate employees this year.
For complete survey results, visit http://www.atlasvanlines.com/relocation-surveys/corporate-relocation/. To view the infographic, visit http://www.atlasvanlines.com/infographics/doing-more-with-less/.
About Atlas Van Lines
Atlas Van Lines, a national moving company, is the largest subsidiary of Atlas World Group, an Evansville, Ind.-based company. Atlas World Group companies employ nearly 700 people throughout North America. Nearly 500 Atlas interstate moving agents in the United States and Canada specialize in corporate relocation, household moving services and in the transportation of high-value items such as electronics, fine art, store fixtures and furniture. For more information, visit http://www.atlasvanlines.com.