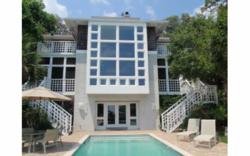 A far cry from your average home
Amelia Island, Florida (PRWEB) May 07, 2013
Prudential Chaplin Williams Realty representatives announced today the listing of a luxurious riverfront home at 11459 Fort George Ribault, Jacksonville, Florida. Designed by the architect as his personal home, this exquisite mansion sits on 200 feet of navigable shoreline on the Fort George River, just upstream from the Fort George Inlet, and at low tide still provides a generous 5-foot depth. Prudential Chaplin Williams is listing the property at $1.1 million.
Built in 1998, the architect carefully sited this 4186 square-foot tropical luxury home for ultimate privacy among the trees on Ft. George Island. The 2.7-acre wooded lot faces the Fort George River, and is only ten miles from the pristine beaches of Amelia Island, and a short walk to the historic Ribault Club. This ultimate dream home has incredible features to include a two-story wall of windows overlooking an inviting pool with vistas of the boat dock and the river beyond. The pool area has a decidedly Miami vibe with dual, white staircases featuring custom made, wrought iron railings. The twin staircases descend from the home's main living areas and frame the poolside doors that lead to fun of the game room on the lower floor of the home. When you are ready for boating adventures, follow the curved staircase as it winds down from the pool and patio to a wooden dock that extends 200 feet to the boat-lift and the river way. And after your boating and swimming adventures end for the day, the warmth of the patio's built in gas fire pit beckons you to linger beyond the twilight.
Perfect for socializing, the soaring two-story living room on the second floor is enhanced by the dramatic wall of windows that fill the home with light and ever-changing river views. Two screened-in porches further extend the living space into the outdoors.
The gourmet kitchen boasts a walk-in-pantry, and expansive granite counter tops that open onto an informal dining space. The kitchen also flows beautifully into the formal dining room niche that repeats the home's trademark, stunning design features with another perfectly placed wall of windows.
A far cry from your average home, the two beautiful bedrooms are spaciously sized on a grander scale, with room for living, private decks and his and her walk-in closets in the master. A crow's nest at the topmost floor of the home acts as a retreat or study for those seeking the ultimate in privacy with a view. The designing architect has already drawn plans for a guesthouse addition, and the plans will be provided to the new owner and included with the sale of this exquisite riverfront estate.
This property, at 11459 Fort George Ribault, Jacksonville, Florida, is represented by Prudential Chaplin Williams, and because that name is essentially a guarantee of uncompromising personal service and extensive professional expertise, clients know to expect the highest level of experience and professionalism, whether seeking their dream home or realizing the best return on their investment. For more information, visit Prudential Chaplin Williams Realty online at http://www.chaplinwilliams.com or call 904-261-9311. For the best in Rental properties, call Chaplin Williams Rentals at 904-261-0604 or visit http://www.chaplinwilliamsrentals.com
About Chaplin Williams:
Founded in 1997, Prudential Chaplin Williams Realty is a full-service real estate brokerage serving all of North East Florida and headquartered on Amelia Island. Chaplin Williams Rentals is a full-service professional property management company also located on Amelia Island, Florida. Both companies were established by owners, Dee Chaplin and Hugh Williams. Together with their hand-picked team of real estate professionals, they have been managing and brokering the finest homes in Fernandina Beach, Amelia Island, Nassau County and surrounding areas for more than 15 years. They know the area as few others do and no wonder: they've been here from the beginning and are deeply rooted in the area. Savvy insiders know these realtors' reputation for honesty, dedication, expertise and service. "When you work with Chaplin Williams, you are always represented by the area's finest real estate professionals."