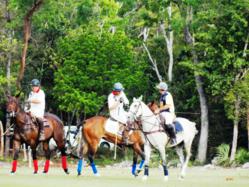 Cancun, Q. Roo (PRWEB) May 07, 2013
As part of its commitment to promote sport tourism in the Mexican Caribbean, Sunset World Resorts & Vacations Experiences sponsored the 7th Annual Copa del Rey.
The travel consortium also participated with its very own Team Sunset World. Competing against riders from countries like Argentina, Canada, the United States, Panama, Guatemala and Mexico, the team took 3rd place in these traditional sporting events, which have become Cancun and the Riviera Maya's most glamorous social happening.
From the 25th through 28th of April, 2013, El Rey Polo Country Club, located just eleven kilometers to the west of Puerto Morelos, played host to this celebration of horsemanship. Situated on the road that leads to the famous Route of the Cenotes, it is the only country club in all Southeastern Mexico with an official size polo field.
The 7th Annual Copa del Rey was inaugurated with a traditional Mayan blessing ceremony. In addition to the games of polo, there were also cocktails, parties and presentations offered by the diverse sponsors.
The sport of polo was first introduced into Mexico at the end of the 19th Century and has deep roots in the country's sporting history. Mexico is considered to be an international powerhouse in this discipline alongside Argentina, England, India, the United States and Brazil. Brothers Guillermo and Carlos Gracida are considered to be amongst the best polo players in the world.