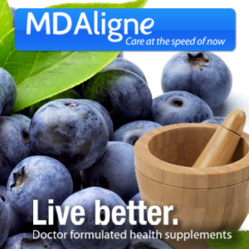 Our mission, to improve the health of our customers by offering a line of the highest quality nutritional supplements, is in perfect accordance with that of MD Aligne's vision.
Conshohocken, PA (PRWEB) May 07, 2013
MD Aligne is proud to announce their partnership with Viosan Health Generation. MD Aligne, an online health and wellness company, currently provides safe, convenient and affordable healthcare services via telephone and web to over one million customers. By providing supplemental medical care, without the need for insurance, MD Aligne is able to address the overall health solutions of their patients. This includes preventative care services such as health assessments, nutritional guidance, and vitamin supplements.
Most doctors today treat patients for acute illness, but due to insurance regulations, they are often unable to care for the whole patient and focus on preventative measures. MD Aligne is taking the next step in bringing back this critical level of care. By partnering with Viosan, MD Aligne's US based/licensed doctors are able to discuss patients' overall health and wellness needs, recommend best fit nutritional vitamin supplements, and even send the vitamins and supplements directly to the patient's home.
"Why Viosan?" MD Aligne President John R. Palumbo begins, "In a marketplace filled with everything from quick energy drinks to long aisles of vitamins and supplements, MD Aligne worked to find a partner that provided the highest quality product, made with the finest ingredients, and produced in the strictest quality controlled environment. Not only have we been impressed with their products and processes, but with their medical advisory board as well."
Dr. Ross Podell, an Internist and a member of the Medical Advisory Board for Viosan, agrees that the partnership between MD Aligne and Viosan is a perfect fit. "Our mission, to improve the health of our customers by offering a line of the highest quality nutritional supplements, is in perfect accordance with that of MD Aligne's vision," States Dr. Podell. "We supplement their current telemedicine offerings with a resolute focus on our key health initiative, prevention."
The Viosan family of products target specific patient groups with a focus on prevention. MD Aligne's doctors are ready and able to understand and advise the "whole" patient, including preventative measures which may include pharmaceutical supplements. Adding Viosan to their core formulary gives MD Aligne the unique opportunity to provide patients with a high quality and convenient delivery method for medical and health advice, guidance, and now the supplements they may need to stay healthy.
About MD Aligne
MD Aligne is a new and better way to get the professional healthcare you need when you need it. MD Aligne offers resources for healthcare solutions via the telephone or web providing safe, convenient, and affordable access to remote caregivers utilizing our digital platform. As a web-based consumer health company, we deliver multi-device solutions for consumers to conduct health e-commerce for doctor consultations, answer medical questions and online diagnosis, prescription and testing, and other healthcare supplies and therapies so our customers can manage their health, in their way, on their schedule.
According to a global survey, consumers are growing more comfortable with virtual doctor visits, with 70% of U.S. patients open to the idea and some studies are even showing better outcomes from telehealth than in person. For those health issues that do not require a face-to-face visit, our services are efficient and easy. Our digital and telephone doctor consultations give patients timely access to quality medical advice and the convenience of conversing with medical professionals 24/7, from home or work, reducing the total cost of the traditional medical office visit experience. For more information, visit mdaligne.com or call 1-888-738-5574.
About Viosan Health Generation
The Founders of Viosan possess many years of successful and progressive experience in both the healthcare and health products industries. We believe in the power and importance of natural, healthy living, an essential element for vitality and longevity. Our mission is to improve the health of our customers by offering a line of the highest quality, therapeutic dosage nutritional supplements, targeting core health issues. We accomplish this while maintaining our resolute focus on the key health initiative, PREVENTION.
Viosan incorporates pharmaceutical quality standards in all facets of our business. This includes raw material evaluation, supplier selection, and laboratory analytics across the entire spectrum of quality, purity, potency and efficacy measures. Quality Assurance and Quality Control checkpoints and adherence to strict manufacturing standards as contained in FDA cGMP's (verified current good manufacturing practices) reinforce our commitment to you. We use only the highest quality and purity (pharmaceutical grade) ingredients in our products, while maintaining rigorous testing protocols to ensure consistent quality and potency. For more information, visit vitaminanddietarysupplements.com.
Contact:
Taylar Cooney
Corporate Administrator
Tel: 484.784.4560
mediarelations@mdaligne.com