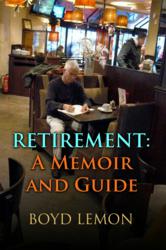 "Boyd Lemon is probably the most interesting writer I have ever worked with. He is a thinker, a mental giant and someone I respect deeply. I think he deserves his position at the top of the writing tree."
Book Reviewer, Nick Wale
St. Marys, Georgia (PRWEB) May 09, 2013
"Don't give advice to your adult children," advises Boyd Lemon, Author of "Retirement: A Memoir and Guide," unless they expressly ask for it, not about anything, especially not about lifestyle or parenting. Lemon tells parents of adult children not to criticize how they live or how they parent. Likewise, criticizing their children will also alienate them. Many parents of adult children alienate or even lose connection with their children and grandchildren by this type of conduct, or at least they become emotionally distant.
Lemon's advice is to work to establish and maintain relationships with adult children, and he points out that the relationships change as the children marry, have children of their own and get older. Parents should be on the lookout for such changes. Other than with spouses, adult children can and should be a parent's most important relationships. It is worth the effort to nurture them. Parents should engage in activities that their children enjoy and that they can engage in together. "It will pay off in the end," says Lemon.
Above all, Lemon cautions against giving any advice, especially relating to their lifestyle, their marriages or parenting their children. All of these areas are extremely sensitive. Adult children often view such advice as interfering with their lives, their independence as adults, which they guard with vigor. Parents might be doing all or one of these things without even realizing it. It may not even be direct, but, the children, ultra-sensitive to such criticism, pick up on it, and they don't like it. Lemon cautions that kids who are jealous of their independence as teenagers, may be more extreme when they are in their 20's and 30's. Lemon laments the many baby boomers and seniors who are estranged from their adult children, usually because they have interfered in their children's lives. Lemon points out that a relationship with adult children, like any other relationship, is only as good as the time, effort and sensitivity put into it.
Lemon's book, "Retirement: A Memoir and Guide," is available on Amazon, Barnes and Noble and by order from any bookstore. His website, http://BoydLemon-Writer.com, provides excerpts, reviews and other information.
About Boyd Lemon:
Boyd Lemon lived most of his life in Southern California and moved to Boston in March 2007, where he stayed until spring of 2010. Boyd later relocated to Europe for a year, splitting his time between Paris and Tuscany. Boyd's writings are largely based on his life experiences. He has written seven books including, "Eat, Walk, Write: An American Senior's Year of Adventure in Paris and Tuscany", "Digging Deep: A Writer Uncovers His Marriages", "Unexpected Love and Other Stories", and his latest publication "Retirement: A Memoir and Guide." Boyd maintains a riveting travel blog "Boomers and Seniors" in which he discusses his travels and recommends economical travel options for baby boomers and seniors. To learn more about Boyd visit http://boydlemon-writer.com/.