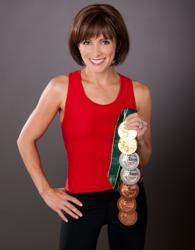 I had to simply put my situation in God's hands and knew that whatever happened would be the right thing for my family.
Brookside, NJ (PRWEB) May 07, 2013
After Shannon Miller, the most decorated gymnast in U.S. history, was diagnosed with ovarian cancer two-and-a-half years ago, she was worried she may not be able to have more children.
"There was always that concern after having my left ovary and fallopian tube removed and undergoing nine weeks of chemotherapy," the seven-time Olympic medalist and nine-time World champion said. "I had to simply put my situation in God's hands and knew that whatever happened would be the right thing for our family."
Now cancer free, Miller and her husband are ecstatic to welcome their little girl in June. Since her diagnosis, Miller has continued her efforts to create awareness of the symptoms of ovarian cancer, the leading cause of death from all gynecologic cancers in the U.S. and to promote early detection of all cancers.
As Honorary Chair of the 2013 national Turn The Towns Teal® Ovarian Cancer Awareness Campaign, Miller is asking women to register now with the organization in order to create greater public awareness of the disease in September, National Ovarian Cancer Awareness month.
As part of the Turn The Towns Teal Campaign, volunteers across the country will tie biodegradable ribbons in and around town centers, on trees, mailboxes and fences to create awareness of ovarian cancer and its symptoms. They will distribute symptom cards and literature in places such as health clubs, grocery stores and shopping malls.
"The ribbons are the visual," said Jane MacNeil, president of Turn The Towns Teal. "We want to get people's attention so they can become aware of the disease. There is no early detection test for ovarian cancer, like mammograms for breast cancer or Pap tests for cervical cancer."
Ovarian cancer symptoms are vague and mimic the signs and symptoms of much less serious diseases. Symptoms include bloating, abdominal or pelvic discomfort, feeling full quickly while eating, frequent urination or a strong urgency to urinate, back pain, fatigue, or vaginal bleeding.
"Women need to stay in touch with their bodies and speak to their doctor about any new symptoms that persist or get worse after two or three weeks," said MacNeil. "Unfortunately, most women with ovarian cancer are not diagnosed until the cancer has grown and spread. The phrase, 'the earlier the diagnosis, the better the prognosis' is absolutely the case when it comes to ovarian cancer." 
________________________________________________________________________________
Turn The Towns Teal® is a national nonprofit that was founded in 2007 by Gail MacNeil of Chatham, NJ. The campaign goes on in her name and in her honor. For information about Gail's story and how to become a Turn TheTowns Teal volunteer, go to http://www.turnthetownsteal.org.