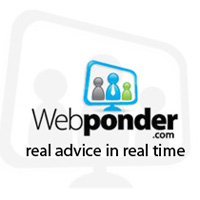 The most popular categories are currently the legal industry, technology industry, and the auto industry.
Homestead, Florida (PRWEB) May 07, 2013
Homestead personal injury attorneys are sought by Webponder.com, a live video consultation site that connects visitors with experts in a variety of fields, including the legal industry, through live video consultations to provide both paid, and free legal advice online. Although at this time Webponder is specifically seeking personal injury attorneys located in the Homestead area, there are over one hundred attorneys on Webponder from over two dozen states that specialize in a wide range of legal fields such as personal injury, bankruptcy, real estate, family law, criminal law, cyber law, business law, traffic tickets, and many other areas.
After browsing and viewing multiple profiles, visitors to Webponder.com can request a consultation from the professional of their choice. Once the individual seeking advice decides on the professional they would like to connect with, they click on "Request a Meeting" and tell, for example, the online attorney, free online mechanic, or an mdonline, the topic they would like to discuss, some details, and request a specific date, time, and duration. The professional then reviews the request, and if accepted, both parties login and meet face to face through a video chat at the agreed upon requested time. Webponder profiles include background information on each professional, a video consultation rate sheet, an intro video, a photo, uploaded articles, and even uploaded videos recorded by the professional. All these profile features allow the advice seeker to make an informed decision as to who they would like to get their advice from.
Since its inception, Webponder.com has been seeking and registering credible and qualified experts in a wide array of areas as discussed above. The most popular categories are currently the legal industry, technology industry, and auto industry. Visitors can connect with experts with years of experience helping others in their industry, and perhaps even with previous video consultation advice experience, as many experts have experience providing consultations through other video conferencing software such as Skype. Those who have taken part in a Webponder video consultation describe the experience as the closest thing possible to an in person meeting, and many state that once in a video consultation is in progress, the parties usually forget that they aren't even in the same room. Webponder advice givers choose the rate at which they agree to have a video consultation rate at, although many experts offer free consultations in an effort to convert the advice seeker into a typical customer.
Other video consultation features include text chat, the ability to send documents and pictures instantly, a notes log which is private to both parties, and the ability to email, print or save the chat, notes, and file transfer to one's "History," where it can always be pulled up and reviewed again.
Webponder was developed by Miami web design firm NetroStar Inc, and deployed in the middle of 2012, and has consistently grown in the number of registrations and visits since that time. Inquiries for Webponder.com can be directed to Managing Director Steve Thompson, a Florida and New Jersey licensed attorney himself, at (305) 373-7775.