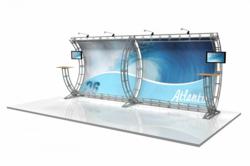 truss kits sold on the DPS website assemble with a twist and lock construction
Glendale, California (PRWEB) May 08, 2013
Digital Pre Press Services, Inc. now offers truss kit trade show displays – a popular option among tradesmen and companies. These new systems, alternatively called kits, are large, impressive and offer businesses a professional, defined space.
Highlighting this new addition is ease of construction. The truss kits sold on the DPS website assemble with a twist and lock construction. No tools are needed to erect the large scale displays.
The new trade show displays range from 10 ft. x 10 ft. up to 10 ft. x 20 ft. These dimensions directly correlate with the general display space a tradesmen or business would occupy during a trade show exhibition. Truss systems create height, storage space and workspace. Branding opportunities are also created through custom graphics the company chooses – including company logos and featured product graphics. All truss displays offer a well-defined space that encloses and personalizes the pre-determined space. This helps to contain interested parties and maintain their focus on the product or service being offered.
DPS continues to expand their truss display section to include a variety of businesses to choose from. From curved designed to straight designs and those that include table tops and more, Digital Pre Press Services, Inc. strives to provide the largest selection and most affordable prices.
For more information regarding tradeshow truss kits or any other product DPS offers, please visit the company website: http://www.dpsbanners.com.
About Digital Pre-Press Services, Inc.:
Founded in 1996, Digital Pre-Press Services, Inc. is visible online at DPSBanners.com and on location in Glendale, California. The company provides simple, affordable and professionally designed banners that can be personalized and customized exclusively online. Through the site, DPS has a wide array of products including truss displays, banner stands, window clings, car magnets, retractable banner stands, sidewalk signs, pre-designed banners, and more.
Contact:
Digital Pre-Press Services, Inc.
Toll Free (888) 790-2665
Local (818) 240-2004
Fax (818) 240-3456
###