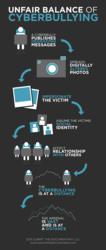 Cyberbullying is one of the most dangerous ways to hurt someone
Atlanta, GA (PRWEB) May 07, 2013
Submit the Documentary a cyberbullying documentary, is giving new insight into the growing world of online bullying and offering new resources as a solution to this detrimental trend in society. The evolution of bullying has a new digital face. Most of the time victims do not know who their bully is. JaQuitta Williams from CBS Atlanta, recently interviewed Director Les Ottolenghi and Producer Ashley Reid to find out how the film is being used in local Atlanta schools to help the victims of cyberbullying and support solutions.
Peter J. Wilborn, Sophomore, at West Lake High School in Atlanta describes why the school choose to do a stop bullying campaign as part of a humanitarian effort with his English teacher, "A few of our classmates were really affected by bullying in the past few weeks, and were physically harmed." Peter goes onto comment that, "Cyberbullying is one of the most dangerous ways to hurt someone" outside of using physical violence.
Grant Rivera, Principal, at West Lake High School expresses, "Bullying is something that kids and adult see every day but is an unspoken conversation" Rivera's personal thoughts on cyberbullying include, "Cyberbullying it is something that has changed the way schools function…Any school that has any cyberbullying whether it is one situation or many it is an absolute issue."
Submit the Documentary has had requests for over 150 private screenings. Patty Nilsson, Teacher at Guthrie Center in Houston, Texas says, "The film was profound, engaging, educational and emotional—and those are my student's words! They absolutely loved it."
As the school year is coming to an end set-up a screening of Submit the Documentary for your next for your next family movie night. Bullying and cyberbullying is a year-round problem and never quits. If you have a summer youth program or summer camp use this film with your leadership programs to enhance the impact of creating community and changing society.
To request a FREE private screening visit: http://www.submitthedocumentary.com/screenings
CBS Atlanta Interview: http://www.cbsatlanta.com/video?autoStart=true&topVideoCatNo=default&clipId=8848222