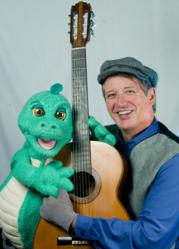 Randel McGee is favorite performer at Treehouse Children's Museum. Both children and adults are delighted, fascinated, and literally spellbound by Randel and his pet dragon Groark. Inevitably children and adults believe totally in the reality of Groark.
Hanford, CA (PRWEB) May 09, 2013
This summer audiences across the country will be able to experience the engaging and entertaining programs performed by Randel McGee & his pet Dragon Groark and the Master Storyteller, Hans Christian Andersen. These programs are enriching and humorous, with underlying themes that promote wholesome values, good character and kindness to others. Children have been captivated by the seamless delivery of these programs year after year. Check the events calendar and join them for a memorable afternoon of entertainment.
"Randel McGee & Groark" are an internationally acclaimed comedy storytelling duo! Their shows are a lively combination of fast-paced comedy, hilarious storytelling, and memorable melodies that literally have people laughing for days! They always leave their audience at storytelling festivals, libraries, schools, conventions and corporate events calling out for more! Randel and Groark can perform bilingually in Spanish, French, Dutch, and Japanese. These live performances are a fast-paced, high-energy blend of stand-up comedy, witty banter, original songs, and hilarious storytelling that appeals to audiences of all ages. They are featured performers at puppetry, ventriloquism, and storytelling festivals, schools, conventions, libraries, and special events across the U.S.
"Hans Christian Andersen Storytelling" - There was once a storyteller who captivated his audiences with his wonderful stories about fantastic creatures and characters. He held them spellbound as he snipped elaborate designs with long scissors from a sheet of paper as he told his tales. His stories became popular all around the world. His name was Hans Christian Andersen.
What was it like to hear H.C. Andersen himself tell his wonderful tales?
Now audiences around the world can have the experience of hearing Andersen's lively tales, told as he would tell them: with humorous comments, lively actions, different voices, and amazing cut paper designs – made as the stories unfold. Randel McGee portrays Andersen in period costume, with a convincing and consistent accent, and while making amazing paper-cut designs.
McGee Productions Summer Season 2013 Event Calendar
May 2013
Hanford, CA Char. Ed show
May 7, 2013 4:00 pm & 5:00 pm
Giggles, Oohs, & Ahs! Kid Time at the Martinez, CA Civic Center
May 8, 2013 3:30 pm & 4:30 pm
Santa Maria, CA Library
May 9, 2013 6:30 pm & 7:30 pm
Hanford, CA Char. Ed Show
May 15, 2013 4:00 pm & 5:00 pm
Alpaugh, CA "Reading Luau!"
May 16, 2013 9:00 am & 10:00 am
June 2013
Tulare Co. Migrant Ed. Summer Show
June 14, 2013 8:00 am & 11:00 am
Menlo Park, CA Library Show
June 19, 2013 10:30 am & 12:00 pm
Santa Barbara County, CA Libraries
Santa Barbara County Library System Goleta, CA
June 25, 2013 10:30 am & 11:30 am
Eastside Library Santa Barbara, CA
June 25, 2013 3:30 pm & 4:30 pm
Central Santa Barbara Library
June 26, 2013 10:30 am & 11:30 am
Solvang, CA Library with Groark
June 26, 2013 6:00 pm & 7:00 pm
Carpinteria, CA Library
June 27, 2013 10:30 am & 11:30 am
Montecito Library Santa Barbara County, CA
June 27, 2013 4:00 pm & 5:00 pm
July 2013
Taft, CA Library
"Stand Tall" Bullying Awareness show!
July 11, 2013 2:00 pm & 3:00 pm
Jamestown, NY Scandinavian Folk Festival
July 19, 2013 – July 21, 2013 3:00 pm & 4:00 pm
August 2013
Richmond, VA National Storytelling Network Conference – Workshop Presenter "Storytelling with Puppets, Props, and Masks"
August 1st-4th
Philadelphia, PA Puppet Fest
August 5th, 6th & 7th
Pittsburgh, PA Puppet Fest
August 15th, 16th & 17th
About McGee Productions
For over 30 years, McGee Productions has been bringing family fun and entertainment to audiences the world over. Randel McGee's talent as a puppeteer, ventriloquist and storyteller is second to none. The young and the young at heart equally enjoy the playful, values oriented interaction with Randel in each of the programs he performs. In addition, Randel McGee is also an expert at paper sculpting and pop-up creations and has published a 12 book series of paper craft projects for the holidays. Randel lives in Hanford, CA with his lovely wife Marsha McGee who is also the managing director and education liaison for McGee Productions.
-END-