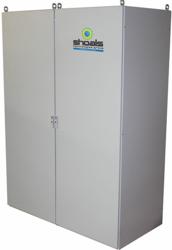 Portland, TN (PRWEB) May 09, 2013
Shoals Technologies Group, the global leader in photovoltaic OEM and balance of systems components, proudly announces another addition to its long series of ground breaking innovations, UL1741 certified Disconnect Cabinets compliant with NEC 690.14(4).
The STG Disconnect Cabinet series provides an innovative and time-saving method to decommission a system for servicing. Compatible with 2 to 20 inputs, the STG Disconnect Cabinet's proprietary design allows for the user to easily disconnect up to 20 circuits with only 5 handles.
"With this convenient NEC 690.14 (4) Compliant method of disconnecting within the system, it results in the ability to service the inverter and fuses in a timely manner, increasing system uptime while reducing BOS costs", said Ben Macias, Vice President of Global Sales. "In a typical system, de-commissioning time exceeds the service time. With this new method, system de-commissioning time becomes insignificant."
STG.DCU Features Include:
⁃ Compatible with most inverter types
⁃ Disconnect up to 20 circuits with only 5 handles
⁃ Isolate DC feeders for fuse/ inverter servicing
⁃ ETL Listed to UL1741
⁃ NEMA 3R enclosure
⁃ Integrated cable management/strain relief
⁃ 90°C terminations
⁃ ROHS compliant
⁃ 5-year warranty standard
For more information regarding the STG Disconnect Cabinets, please visit http://www.Shoals.com or contact Shoals Technologies at +1-615-451-1400 or at sales(at)shoals(dot)com