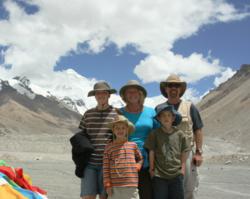 Take your family to travel in Tibet! Many tour programs and budgets options are available now!
(PRWEB) May 08, 2013
Tibet travel is becoming increasingly popular amongst families that seek a relaxing vacation filled with unique cultural and educational experiences. Tibet Ctrip Travel Service-TCTS (http://www.tibetctrip.com) is working to make Tibet more accessible to families through its new line up of family friendly Tibet tours. With a rapidly evolving tourist infrastructure what used to be a destination only for the most intrepid travelers is now an easy and enjoyable travel destination. Through several years of experience operating tours, TCTS has grown to understand the needs of traveling families. Flexible travel schedules allow families to enjoy their tour while TCTS's staff takes care of travel details like guides, transportation, and travel permits.
Most of TCTS's tours begin in Lhasa; a native Tibetan guide will meet families at the airport and accompany them to their hotel. To avoid the effects of the thin mountain air, travelers are advised to relax and drink much more water than normal. Some light walking can be a great way to orient oneself with their surroundings while adjusting their body to the altitude. As the Tibet tour begins, families will enjoy a sightseeing tour of Lhasa! Home to many of Tibet's most cultural and historical sites, Lhasa features places such as Potala Palace, Sera and Drepung Monasteries, Jokhang Temple, and Barkhor Bazaar. Travelers on a tight schedule will find that taking just a few days to explore Lhasa provides opportunities to see every day Tibetan life and enjoy an introduction to Tibetan culture.
TCTS provides a wide variety of options for families seeking an extensive tour of Tibet. It's easy to be overwhelmed by the choices when planning a tour. TCTS recommends families first focus on which parts of interest them the most, then start planning their tour around those interests. Travelers interested in a culture-focused tour may want to spend time visiting monasteries and temples in places like Shigatse, Gyantse, and Yarlung Valley. Those interested in taking in Tibet's stunning landscapes may want to visit destinations such as Mt. Everest, Lake Namtso, or Mt. Kailash. Many of TCTS overland journeys allow families to blend culture and nature while seeing large cross sections of Tibet!
A Tibet family tour by TCTS allows families to relax, enjoy the mountain scenery, and come home with the satisfaction of knowing they have invested their time in a truly worthwhile adventure. A quick four or five day tour of Lhasa is perfect for families on a tight travel schedule while an overland journey is well suited for families seeking an in-depth experience. A majority of tours by TCTS have a flexible schedule, allowing stops for pictures and more time when visiting temples and monasteries. With the best season for Tibet travel coming up quick. Travelers are advised to plan ahead and book their tour now!
Devin Moore provided this news release above on behalf of local Tibet tour agency TCTS (tibetctrip.com). Devin is a travel writer and independent economic analyst based in Springfield, Missouri USA. His economic research is currently focused on airfare pricing. Devin Moore works to spread awareness of Tibet and its people through publishing Tibet travel information.