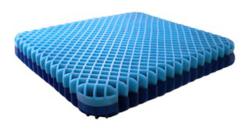 Your cushions are very impressive in these tests. It still bothers me how miserable the egg-crate does. I think about how many people have that type of cushion in their wheelchairs, very sad.
Alpine, UT (PRWEB) May 10, 2013
"We're not dummies," WonderGel tells their extensive following of over 50,000 on Facebook, Twitter, Email, blog, and more. "We know we have a lot of competition, and we're not afraid to put our cushions to the test to show you ours is better."
WonderGel purchased six of their competitors' cushions including a folding gel seat, foam with liquid gel insert seat, a memory foam seat, a rubber air filled donut seat, an egg crate foam seat, and a plastic air filled seat. These six seat cushions were chosen as a representation of many of the types of seat cushions that can be found on the market today.
For the first portion of the testing, WonderGel uses pressure mapping technology where each cushion will be sat upon for ten minutes. Pressure mapping involves using sensors to quantify the pressure between two contacting objects, such as a person and their support surface. The cushions will be tested with the pressure mapper at several different intervals, starting with brand new, and then at different segments after being in the "rollater" the inventors of WonderGel specifically built to test the durability of gel and other products.
The rollater is a machine in which a heavy drum rolls over the cushions over and over again, crushing them to simulate sitting and long term use. The rollater will run for ten hours at a time before the cushions are tested again.
The results will be published on WonderGel's various social media sites such as Facebook and twitter, their website and blog, and also sent by email to those who opt in via web form. The testing will be done and the results will be released over the course of several weeks to the public. After the project is over, the results will be left permanently on WonderGel's website for customers and potential customers to view.