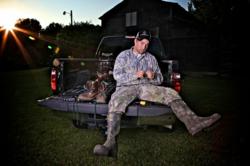 I've always heard that some of your best songs will be written the quickest.
Yankton, SD (PRWEB) May 08, 2013
Up-and-coming hick-hop artist and ProPatterns.com member Charlie Farley is the creator of the new hick-hop theme song for the Exposed fishing series. Hick-hop or Country Rap is the tongue-in-cheek nickname for a subgenre of music that combines elements of country, rap and hip-hop.
Farley grew up writing music and making mix tapes and has recently found success on a professional level. On his website http://www.charliefarleymusic.com, Farley credits his relationship with ProPatterns for helping him break into the music industry: "I eventually wrote a fishing/rap song for the new fishing series called "Exposed" (You can find the song at http://www.propatterns.com.) The ProPatterns gang took me down to Shreveport to the Bassmaster Classic and we all hung out and had a great time and that's when I realized that my hard work was beginning to pay off!"
Farley explains his inspiration for creating the Exposed theme song: "I wrote 'Exposed' in about twenty minutes. I've always heard that some of your best songs will be written the quickest. I think that happens because those songs come from personal experiences and real emotions."
Farley goes on to explain that he wasn't merely writing on demand for a corporate entity: "Although I wrote the song for ProPatterns and the Exposed show, I didn't write down a bunch of lyrics about fishing just to make a fishing song because someone wanted me to. I've been an AVID bass fisherman since a very young age."
Like many anglers, Farley can recount the early experiences that influenced his love for fishing. "I actually still have a clipping out of the front page of a local newspaper from when I was a boy. My grandpa took me to a 'take a kid fishing tournament' and I caught the biggest bass of the day (5.60lbs). So to me the song is more than just a theme song for a show. It is what I've done, seen and been through while out fishing, and it also gets me pumped up and in the right mindset to go fill the boat on tournament day!"
Farley's musical efforts soon led to a relationship with Phivestarr Productions and a record deal with Average Joes Entertainment who represents other artists such as Montgomery Gentry. Farley's ventures and relationships have led to quick fame including a recent music video with Colt Ford and Bubba Sparxxx.
Farley lives in De Queen, AR where he works on his productions and promotions. More of his music can be found at http://www.charliefarleymusic.com.
The Exposed theme song can be found at ProPatterns.com, ITunes, Amazon, Spotify and a host of other sites.
About ProPatterns, Inc. and Exposed:
ProPatterns, Inc. is a leader of angling education offering a variety of fishing tips and membership services online. Information is gathered from various sources and shared with members in a variety of ways. The Exposed video series, for example, gains all of its integrity from an alignment with the biggest names in the bass fishing industry including professionals who fish with BASS, FLW, and PAA.
The company is based in Yankton, South Dakota, home of CEO and President Chad Ekroth. Ekroths background includes a computer science degree and entrepreneurship through a variety of technology businesses. When not tending to business, Ekroth spends his time fishing and engaging in fishing industry relations including a long time commitment to B.A.S.S. Nation as a 25-year member and tournament competitor.
In addition to Exposed, the company provides online fishing journals, payday opportunities, sponsorship opportunities, and a variety of other services including the new enhanced Fantasy Fishing competition which provides all members a chance to win prizes.
Visit http://www.ProPatterns.com today to receive all of the latest information about the Exposed videos series and to learn more about all of the member services available.