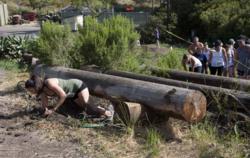 Having Saquito join us is very exciting as it brings innovative nutrition to our athletes
Palm Beach Gardens, Florida (PRWEB) May 09, 2013
This year Santa Barbara's Crazy Fit Challenge (CFC) has attracted Saquito Mix LLC as a sponsor for the annual obstacle course event.
The Crazy Fit phenomena started in 2009, when owner of the SB Training gym, Mike Claytor, wanted to create camaraderie outside the gym environment. Now, in its 5th year, numbers have expanded, doubling every year, with an expected 300 participants at the 2013 event.
The CFC competitors are required to race against the clock to complete an unfamiliar 1.5 mile long obstacle course, for as many as four laps.
Event organizer, long-time Crazy Fit competitor and Saquito sponsored athlete, Cindy Jackson made Saquito aware of the event earlier in the year. The company saw the opportunity to reach out to a different market and increase its presence in Santa Barbara, which is one of the companies primary goals.
"We are very happy to have the support of our sponsors increasing each year. Having Saquito join us is very exciting as it brings innovative nutrition to our athletes," says Cindy Jackson.
Saquito Mix will be supporting the CFC by giving free samples of its product to each participant and by sampling and selling product to attendees and spectators.
"Cindy, having completed numerous endurance events including an Ironman, is one of our most seasoned athletes. She's in such good shape I doubt any one of our athletes would want to take her on in any way. When she told me about the Crazy Fit Challenge I knew it would be a great opportunity to reach new people with our product which I'm happy to say is gaining adoption throughout the athletic world," says Zach Azeez, CEO, Founder, and product inventor at Saquito Mix LLC.
Saquito was founded in 2012 and is the producer of the world's first chia energy mix - a unique blend of superfoods consisting primarily of chia seed, with an overall low sugar content, packaged in 40g units, and packaged in a resealable biodegradable plastic sleeve. Saquito Mix LLC is based out of Palm Beach Gardens, Florida.