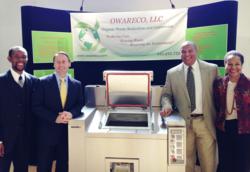 Valhalla NY (PRWEB) May 10, 2013
During the April 30, 2013 "Food Rescue Forum for Westchester-Based Schools & Campuses" hosted by the Food Bank for Westchester, Mr. Robert Astorino, Westchester County Executive, officially announced the partnership with OWARECO, LLC to pilot an organic and food waste reduction project as part of its comprehensive strategy to address the local challenges of food waste, hunger and poverty. Forty percent of food in the United States is wasted, lost in production, distribution and consumption. When diverted to landfills, this food waste accounts for almost 25 percent of U.S. methane gas emissions with its attendant negative impact on the environment.
The pilot is scheduled to begin in June and operate for the summer at the County's H-MR F Facility in Valhalla, New York. OWARECO, LLC (Organic Waste Reduction and Conversion), a minority owned and operated small business, will install and manage its innovative Ecovim™ system to efficiently and reliably reduce and convert the food waste brought to the H-MRF during the pilot. Westchester County-based businesses, schools, campuses, and institutions will be encouraged to visit and tour the site to learn how this solution effectively addresses the growing problem of food waste without further burdening the environment. Local large producers of food waste (corrections facility, hospitals, etc.) will participate in diverting their food waste to the H-MRF rather than landfills. The nutrient-rich soil amendment and potable water produced through the Ecovim™ conversion process will be reused in local area farms, garden projects and landscaping.
The Ecovim™ technology uses a propriety dehydration and heat process to reduce and convert food waste without adding water, chemicals, wood chips or enzymes. The only two byproducts of this food waste conversion process are a dry, sterile, nutrient-rich bio-mass suitable for landscaping, organic farming, animal feed; and potable water. With further compaction, the bio-mass is easily burned as bio-fuel. The process reduces food waste volume by 85% to 93% of its original volume within a 6 to 23 hour processing cycle.
The unique Ecovim™ systems provide a true NET Zero Waste solution that produces no negative environmental impact and decreases the user's carbon footprint.