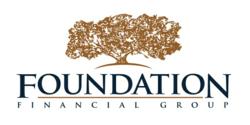 Programs like Shred-it are a perfect fit for Foundation Financial because they allow us to enhance security, maximize efficiency, and minimize overhead all while reducing our corporate carbon footprint.
Jacksonville, Florida (PRWEB) May 09, 2013
Foundation Financial Group has been awarded a Certificate of Environmental Accomplishment for the company's participation in "Shred-it," a recycling and shredding program. FFG's "Shred-it" efforts have benefitted the environment while maintaining security integrity for the financial services corporation.
"FFG is providing our communities with best in class service, at an affordable rate without destroying the environment along the way," said CEO Mark W. Boyer, who helped develop Foundation Financial Group's paperless culture. "In fact, we want to protect and improve our communities' environments. Programs like Shred-it are a perfect fit for Foundation Financial because they allow us to enhance security, maximize efficiency, and minimize overhead all while reducing our corporate carbon footprint."
The successful Shred-it program at FFG begins with data bins which are made out of 100 percent recycled-wood particle board. These secure bins are filled with sensitive data and then collected from FFG locations for shredding. The shredded paper is recycled. All recycled paper contributes directly to the production of a wide assortment of paper products such as paper towels and paper plates. For every two security consoles filled with paper, one tree is saved.
Recycling paper doesn't just save trees from being cut down. Producing paper from recycled material is less destructive to our environment than producing new paper. The environmental industry estimates that every ton of recycled paper uses 64 percent less energy and requires 50 percent less water than the same quantity of paper made from virgin wood pulp. Producing recycled paper also causes 74 percent less air pollution and 35 percent less water pollution than virgin wood pulp paper.
Shred-it also supports FFG's stringent security policies. Locked Shred-it bins are utilized in every physical Foundation Financial location to protect the personal information of all FFG customers. Additionally, employees maintain clean desks and adhere to strict computer and phone usage policies to preserve the security of sensitive information.
FFG embraces practices that help the entire corporation go greener. Foundation Financial devotes 25 percent of its considerable philanthropic initiatives toward environmental sustainability. Shred-it is an integral part of Project Sequoia, FFG's going green initiative that began in 2011. The company also purchased ceramic mugs and 16-ounce drinking cups for employees to replace Styrofoam cups, a move which has prevented the use of over 100,000 Styrofoam cups each year. Using fewer Styrofoam cups, which take over 500 years to decompose, means less impact on local landfills.
For more information about Shred-it, visit shredit.com.
About Foundation Financial Group
Foundation Financial Group is a multibillion dollar financial services corporation. FFG offers its customers Best in Class service through its Insurance, Retirement and Mortgage Services. Named one of the fastest growing financial companies in the country by INC magazine, FFG has continued to grow its nationwide presence with over 100,000 new customers per year in 39 states. In addition to the value that Foundation Financial provides every customer, it is also dedicated to its communities and the people who live in them. Through a vast array of philanthropic endeavors the company not only provides significant monetary donations but also fosters a workforce environment that encourages all team members to personally make a difference. Foundation Financial is committed to its strong focus on customer service and community investment as it continues to grow and compete with the largest financial institutions in the world.
Foundation Financial Group reviews all public relations inquiries. For additional information, interview and image requests, contact the Foundation Financial Group Public Relations team.