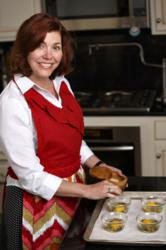 Traveling abroad and learning the fine art involved in each region's cuisine is what makes Monica's Table special. My food-based travels have taken me to Montepertuso in Italy and Pas du Nord in France this year.
Annapolis, Maryland (PRWEB) May 09, 2013
Just in time for treating Mom for Mother's Day, Annapolis business entrepreneur and resident Monica Maloney Heidler has launched a new cooking blog and website,Monica's Table. In concert with her husband, Steve Heidler, these two foodies have traveled the culinary trails of Europe to bring French, Spanish and Italian-inspired dishes to the tables of America. Cooking classes, in-home cooking parties and gourmet coffee offerings round out the website that celebrates the joy of cooking. Only this time, it's cooking together, and this month, cooking for Mom!
This week, her new site offers recipes for a complete Mother's Day brunch, with delicious dishes like Baked Eggs with Lemon Buerre Blanc. (See recipe below.)
Unlike other cooking blogs and websites, Monica began hers with a mission: to teach her husband, Steve, to cook. His apron covered visage appears in caricature on the blog pages, where he writes in tandem with his wife about his culinary adventures. Although admittedly his posts have a masculine feel, focusing as they do on the outdoor grill, red meat, and specialty drinks, it's the idea of cooking in tandem that is capturing the imagination of Monica's Table's rapidly growing audience.
Inspiration abounds for ways to celebrate the joys of food and living. From delicious dishes, marvelous menus and terrific table settings to the more nitty-gritty how-to's that puzzle beginning chefs, this new site is brimming with colorful and professional photography.
A side foray into cooking with chef Dorie Greenspan provides another avenue for aspiring French chefs, and there is a chance to do a little baking with her, too.
Monica credits the years she spent wrapped in her grandmother's apron making homemade biscuits and savory soups as the inspiration for the cook she is today. From there, it was trips to Europe, and learning to cook the European way that launched her latest venture.
"Traveling abroad and learning the fine art involved in each region's cuisine is what makes Monica's Table special. My food-based travels have taken me to Montepertuso in Italy and Pas du Nord in France this year," says Monica.
You can follow Monica and Steve at http://www.monicastable.com, on Monica's Facebook page, and their twitter account at @monicastable.
Cooking for Mom: A Mother's Day Brunch She'll Love!
Menu:
Strawberry, Arugula & Goat cheese salad, Baked Eggs with Lemon Beurre Blanc, Potato Galette, Asparagus, Champagne, Mimosas, Coffee or Tea, Biscotti, Chocolates
Baked Eggs with Lemon Beurre Blanc
Serves: 2-4
Ingredients

1 Tablespoon Olive Oil
1 Cup of Sliced Leeks, green and white parts only
2 Cups Chopped Greens; such as Spinach, Sorrel, Chard, Kale or a mixture
⅛ teaspoon of Red Pepper Flakes
4 Large Eggs
Salt
Pepper
1 Recipe Lemon Beurre Blanc
Toast; preferably toasted French Bread
Instructions
1. Preheat the oven to 400 degrees
2. Gently heat the Olive Oil in a small skillet over medium heat. Add the leeks, stirring constantly taking care not to scorch them. Sautee until soft.
3. Add the Greens and the Red Pepper Flakes, keep stirring until the greens are wilted. Add a few tablespoons of water or white wine if needed to keep the mixture from becoming too dry. Make sure all of the moisture evaporates or the eggs will not set well. Season the mixture to taste with salt, and pepper. Remove from the heat.
4. Dampen a paper towel with the olive oil and grease 4 ramekins then divide the greens mixture between them.
5. Crack an over the greens mixture, taking care not to break the yolk (It's a good idea to gently break the egg into a container then pour it into the ramekin, it will give you more control.)
6. Place the ramekins on a cookie sheet then slide them into the oven and bake for 10 minutes or until the egg whites are set. Watch closely, so the yolks do not get too set.
7. Remove from the oven & let cool for a moment.
8. Spoon over a Tablespoon of the Beurre Blanc Sauce over the eggs. Serve with the toast and additional Beurre Blanc, if desired.
Lemon Beurre Blanc
Serves: 8-10
Ingredients

½ Pound Unsalted Butter, cut into small pieces
½ Cup Dry White Wine or Vermouth
2 Tablespoons White Wine Vinegar
2 Tablespoons of Fresh Lemon Juice, plus 1-2 Tablespoons to finish the sauce
2 Tablespoons Shallots, chopped in very small dice
Salt and Freshly Ground Pepper to taste
Instructions
1. Prepare the reduction by adding the white wine, vinegar, 2 tablespoons lemon juice, & shallots to a small pan. Simmer over medium heat to a syrupy consistency (or at least reduced by ½).
2. Whisk in the butter in small increments to create an emulsion.
3. Add the salt, pepper and additional lemon juice to taste.
For Potato Galette recipe: http://www.monicastable.com/potato-galette/
Find all the recipes for the menu above at http://www.monicastable.com!
###