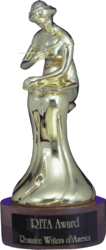 Kudos to @romancewriters ... for a great event!
Houston, Texas (PRWEB) May 09, 2013
An all-star cast of historical romance authors will be chatting online with fans Thursday, May 9, from 8-9 p.m. ET as part of Romance Writers of America's RITA Reader Series that connects its RITA Award finalists with romance readers. Romance Writers of America is a nonprofit trade association whose mission is to advance the professional interests of career-focused romance writers through networking and advocacy, and its RITA Award promotes excellence in the romance genre by recognizing outstanding published romance novels and novellas.
Every week, romance fans have the chance to ask their favorite authors about their writing, characters, and more in an intimate online environment at Shindig.com. This week's series features 2013 RITA Historical Romance finalists Pamela Clare, Cara Elliott, Anne Gracie, Sabrina Jeffries, Jade Lee, and Sarah MacLean. Romance Novella finalist Eloisa James will make a guest appearance. Fans interested in participating should RSVP at http://shindig.com/event/rwahistoricalromance.
A schedule of upcoming events may be found at http://www.rwa.org/RITAchat.