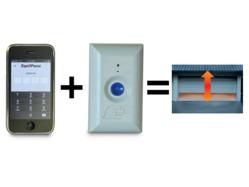 Controlled access to your home without the hassle of multiple garage door openers!
Staunton, VA (PRWEB) May 09, 2013
Integrated access technology provider, F2P Technologies, today announced the launch of a crowdfunding campaign to help finance the production run of the newest version of their Tap2Pass Smart Phone product. The company is best known for its original Flash2Pass product which enables users to open and close garage doors with a double-click of the high beam switch on their vehicle. The new Tap2Pass product, which allows users to open and close garages and gates through an innovative smartphone application, creates its own ad hoc Wi-Fi signal which significantly increases the range and flexibility of the system over an earlier version of the product.
With an extended range of up to 75 feet, the new version of Tap2Pass does not require cell phone service to operate and can be networked with home or commercial Wi-Fi systems. The product is designed to function with both iPhone and Android powered devices, using a free downloadable app from the manufacturer, and will work with virtually all residential garage door or gate openers manufactured since 1982. In addition, the user can share the app and open code (permanently or temporarily) with up to 455 smartphones (eg. family members, contractors, service people, etc.) and all original handheld remotes associated with the system will continue to operate as before.
Launched through crowdfunding site, Kickstarter.com, the new Tap2Pass product will be available to those that make pledges of $100 or more, while other well-known Flash2Pass products will be available for pledges as little as $30.
The Kickstarter campaign can be viewed at http://kck.st/12esNSn.
About F2P Technologies
F2P Technologies was created in 2000 by motorsports enthusiast Chris de Janasz. Based in Staunton, VA, the company manufactures a family of wireless remote garage opener devices including its flagship device Flash2Pass™. These devices feature an unprecedented design and are used in the automotive, motorcycle, commercial fleet, recreational, and other industries.
For more information about F2P Technologies, visit http://www.F2Ptechnologies.com.