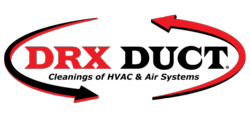 North Plainfield, New Jersey (PRWEB) May 09, 2013
DRX DUCT, formerly known as Dr Duct, is a NADCA-accredited air duct cleaning company serving residential and commercial customers in New Jersey.
DRX DUCT updated its name, logo, marketing materials and website and opened a new office to solidify its brand and expand its customer base.
DRX DUCT announced that it changed its name from Dr Duct to emphasize its commercial capabilities and brand recognition. The family-owned company with NADCA, IAQA, and EPA licenses opened its operations in 2005 as Dr. Duct but recently decided to change its name to reflect a unique and original identity and expand its large scale capabilities customer base.
The company's new name, DRX DUCT, provides consistency and familiarity for existing customers and presents the entity as a mature brand, reflecting its lesser known parallel proficiency in handling large scale ductwork for commercial and industrial clients. The ownership of the company remains the same.
Along with the name change, the company updated all of its service vans, uniforms, marketing materials and website with its new name and professional commercial image. Additionally, DRX DUCT moved its primary office in North Plainfield, New Jersey to a bigger facility just one door down from its original office to 16 Fritz Place.
"Recently over a period of time, scam like companies has emerged with similar names to Dr Duct, so we felt a change was needed to solidify our brand recognition. In addition, we wanted to expand our services and the clients we can reach to include more small, medium and large scale commercial and industrial institutions," said George Ghanime, owner of DRX DUCT, LLC. "We're still the same high quality company that takes time to educate our customers and always put their needs first. We just have a look and feel that better reflects our capabilities."
George entered the air duct cleaning industry after working on Wall Street for years. After searching for a less stressful career that would allow him to help people in a profitable way, he landed on air duct cleaning by happenstance. "I tagged along with a company for a month on air duct cleaning jobs and discovered that they were a complete scam," he said. "They literally over charged the customer for doing nothing." George saw an opportunity to supply a need that was lacking in the New Jersey area - legitimate, licensed air duct cleaning.
DRX is one of only 38 companies licensed by the NADCA (National Air Duct Cleaning Association), a ruling body that sets the standards for the air duct cleaning industry. NADCA licensure requires abiding by official guidelines, participating in continuing education and completing regular written and physical exams to demonstrate competence. DRX's licenses and accreditations include:

NJ #13VH05631500
NADCA #007260
IAQA #18814
EPA #RI-18506-10-11833
In addition to air duct cleaning, DRX performs remediation for mold, fire, smoke, and water damage to HVAC systems in all types of facilities including high rise ventilation systems and Air Duct Cleaning.
New Jersey residents and companies interested in learning more about DRX DUCT products and services or air duct cleaning in general can visit http://www.NJAirDuct.com or contact George Ghanime at 908-755-2950.