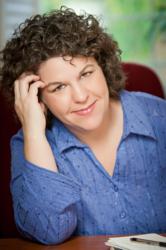 "Imperfect Spirituality is a beautiful, inspiring journey to self-acceptance through the lens of spirituality.

—Rosie Molinary
(PRWEB) May 09, 2013
Polly Campbell, author of the best-selling Imperfect Spirituality, is an expert on matters of stress, mental clutter, and seeing the beauty in imperfection. In her latest article on Self Enrichment, she explores the way in which a little bit of stress can actually be a positive experience. Much of anxiety and stress's negative impact seems to be caused by the way people perceive it, so changing one's own perception of the stress response can have a hugely positive effect on mental health. There is also new evidence that suggests that small doses of stress can be beneficial to the immune system.
On her personal blog Imperfect Spirituality, Campbell addresses the timely issue of how to ease parenting stress. Though it is a joy, parenting can also be incredibly stressful. Polly gives practical advice for taming feelings of frustration, and instead focusing on the beauty of a parent-child relationship. Exploring that notion, she also writes about a personal moment of clarity she recently experienced about her role as a mother:
"I exhaled and felt love fill me up where the air had been. She is my daughter and she is also my teacher, just like I am hers. And, it's her whole job to wonder and I know now, that I want her to wonder. To go through life with zest and curiosity and awe. To pay attention and get messy and get into the moments with such zeal and passion that she forgets about everything else."
Polly Campbell is a writer and speaker specializing in personal development and spirituality topics. Her work appears regularly in national publications, and she is a blogger with Huffington Post, teacher for Daily Om, and at Imperfect Spirituality. For more than two decades, Polly has studied and applied the techniques she writes and speaks about to her own life. Polly and her family live in Beaverton, OR.