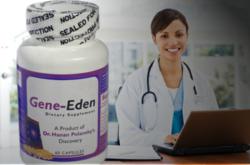 We discovered that our product sometimes helps the patient's body convert the cervical dysplasia back to normal cells, which totally eliminates the need for painful surgery. - Mike Evans
Rochester, NY (PRWEB) May 11, 2013
polyDNA is offering a discount of 50% on the price of Gene-Eden-VIR, an all natural HPV remedy, for those who suffer from cervical dysplasia. This promotion will last from May 12th - 18th, which has been declared National Women's Health Week by the U.S. Department of Health and Human Services' Office on Women's Health. polyDNA is a leading producer of dietary supplements that were clinically tested and shown to be safe and effective.
"…the numbers of cervical dysplasia has been on the rise…(and) Women who have been treated for cervical dysplasia have a lifetime risk for recurrence and malignancy." - (University of Maryland Medical Center) (2)
Medline Plus notes that "Cervical dysplasia is most often seen in women ages 25 - 35, but can develop at any age. Most often, cervical dysplasia is caused by the human papilloma virus (HPV). HPV is a common virus that is spread through sexual contact. There are many different types of HPV. Some types lead to cervical dysplasia or cancer."(3)
"Treatment for moderate-to-severe dysplasia or mild dysplasia that does not go away may include: Cryosurgery to freeze abnormal cells, Laser therapy, which uses light to burn away abnormal tissue, LEEP (loop electrosurgical excision procedure), which uses electricity to remove abnormal tissue, Surgery to remove the abnormal tissue (cone biopsy)." (Medline Plus)
Mike Evans of polyDNA said, "You know, there are no drugs approved against the HPV symptoms (4). There are only procedures, such as cryotherapy, conization, and the Loop Electrosurgical Excision Procedure (LEEP) that surgically remove the abnormal growths. In contrast, we discovered that our product sometimes helps the patient's body convert the cervical dysplasia back to normal cells, which totally eliminates the need for painful surgery."
A recent post marketing clinical study showed that Gene-Eden-VIR is effective against the latent HPV virus. By helping the body's immune system target the latent HPV virus, people also lower their risk of developing symptoms caused by various HPV strains. (5)
Gene-Eden-VIR is highly effective against the latent HPV virus, each ingredient was chosen through a scientific approach. Scientists scanned thousands of scientific and medical papers published in various medical and scientific journals around the world to identify the safest, most effective natural ingredients that target the latent form of HPV. (6)
When someone who suffers from HPV related cervical dysplasia buys Gene-Eden-VIR at full price during National Women's Health Week, she can then write in to polyDNA using the E-mail address provided on polyDNA's website. In that E-mail, that person should provide a doctor's note regarding her diagnosis. polyDNA will then refund that person 50% of the full price of her purchase.
To learn more about Gene-Eden-VIR, visit http://www.gene-eden-kill-virus.com.
References:
(1) http://womenshealth.gov/nwhw/
(2) http://www.umm.edu/altmed/articles/cervical-dysplasia-000034.htm
(3) http://www.nlm.nih.gov/medlineplus/ency/article/001491.htm
(4) http://www.ncbi.nlm.nih.gov/pubmed/22323530
(5) http://www.cbcd.net/Gene-Eden-VIR-Clinical-Study.php
(6) http://www.gene-eden-kill-virus.com/studies.php
###
polyDNA is a biotechnology company that develops dietary supplements using the unique scientific method developed by Dr. Hanan Polansky, which is based on Computer Intuition.
In addition to his unique scientific method, Dr. Polansky published the highly acclaimed scientific discovery, called Microcompetition with Foreign DNA. The discovery explains how foreign DNA fragments, and specifically, DNA of latent viruses, cause most major diseases.
polyDNA developed Gene-Eden-VIR , an antiviral natural remedy that helps the immune system kill latent viruses.