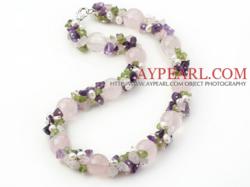 Premium Quality and Discounted Handmade jewelry Available At Aypearl.com
(PRWEB) May 12, 2013
Aypearl.com, the famous wholesale jewelry website, announces that it extended its handmade jewelry promotion to May 12, 2013. According to Zhang Yong, CEO of Aypearl.com, this promotion should end on May 3. But the manager of Aypearl.com has decided to extend it to acknowledge customers. Now, all customers can still enjoy the discounts, up to 15% off, within the limited time.
The handmade jewelry from Aypearl.com features a gorgeous look and delicate craftsmanship. Most of the handmade jewelry is in stock and ready for shipment. The discounted price is also very attractive for every lady. Moreover, the website has strengthened its back end in order to ensure timely delivery of orders. Sourcing of higher volumes of material has been prepared to ensure complete satisfaction of regular and new customers.
In addition, There are over 10000 collectible items available on Aypearl.com , including pearl jewelry, gemstone jewelry, crystal jewelry, turquoise jewelry, coral jewelry, shell jewelry, austrain crystal jewelry, metal jewelry and so on. Customers can order their beautiful and favorite handmade jewelry easily through some clicks of a mouse.
About Aypearl.com
As the famous and leading china jewelry supplier, Aypearl values each customer's satisfaction and requirement. High quality, reasonable price, good customer service, fast shipping are good reasons for choosing Aypearl. There are more than 10000 styles of jewelry on Aypearl. Welcome to wholesale china jewelry from Aypearl.com .
More handmade jewelry information can be found at: http://www.aypearl.com/