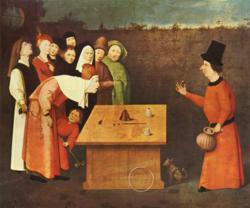 [Bosch's] paintings often represent visual translations of verbal metaphors and puns drawn from both biblical and folkloric sources.
New York, NY (PRWEB) May 13, 2013
Hieronymus Bosch (c. 1450 – 9 August 1516), was a Dutch painter. His work is known for its use of fantastic imagery to illustrate moral and religious concepts and narratives.
In the twentieth century, changing artistic tastes made artists like Bosch more palatable to the European imagination. 
Some writers have found that strong parallels exist between the writing of Erasmus and the often savage painting of Bosch, both denouncing the abuses and scandalous behavior of many priests. Others, continued to think his work was created merely to titillate and amuse, much like the "grotteschi" of the Italian Renaissance. 
In recent decades, scholars have come to view Bosch's vision as less fantastic, and accepted that his art reflects the orthodox religious belief systems of his age. His depictions of sinful humanity, his conceptions of Heaven and Hell are now seen as consistent with those of late medieval didactic literature and sermons. Bosch's art was created to teach specific moral and spiritual truths in the manner of other Northern Renaissance figures. His paintings often represent visual translations of verbal metaphors and puns drawn from both biblical and folkloric sources. 
The full version of Mighty Mack's Paintings: Bosch App features 100 images of the great Bosch paintings. 
This App is available for iPod Touch, iPhone and iPad. Optimized for iOS6, retina display and iPhone 5. It allows the users to share images via email, Twitter and Facebook, or save them to camera roll (with no watermarks). Share the artist bio via email. Select favorites. View the images one by one, or enjoy a slideshow.
Enjoy this fantastic visual gallery, share the images with friends, and learn about the artist's life.
Updates Include:

Optimized for iOS 6.1.3
Updated User Interface
New Splash Page
App Requirements:

iPad, iPod Touch or iPhone, with iOS 5.0 or higher
Wifi connection to download the app
An internet connection for sharing images via email, Twitter or FB (no internet connection required to view the App content)
Click here to see the complete collection of Aramis Artists Apps released by Mighty Mack.
--
Mighty Mack is a leading publisher of distinguished digital products for the consumer and professional markets. The Company leverages newly available digital tools to create, design, and share new ways of consuming information and experiencing the world around us. The company has released a variety of best-of-class Apps, including Advertising Today, Morpheus Dreams, Where2Boss?, Agora Briefcase, Film Today, among many others.
To learn more about Mighty Mack please visit their website at http://www.mightymack.com or email them to press(at)mightymack(dot)com.