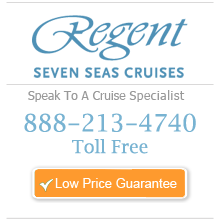 Luxury Cruises, Luxury Services & Luxury Savings
Tucson AZ (PRWEB) May 11, 2013
In April RegentCruiseSale.com had great sales for the 2013 Europe cruises in Regent Seven Sea's "Why Choose?" promotion. "Why Choose?" is the premise that cruise guests shouldn't have to choose which special amenities and destinations they can enjoy, so "why choose?" These amenities include: free unlimited internet access, hundreds of dollars in shipboard credit and business air upgrades. By popular demand the eligible destinations are now being expanded to include Asia and South Africa. This expansion of "Why Choose?" not only includes new destinations, there are also added pre and post cruise land programs that mean hundreds of dollars in savings for consumers.
These opportunities for a land-based prelude or grand finale include: the New Zealand countryside and wineries in Auckland, Angkor Way in Bangkok, the Great Wall in Beijing, Iguazu falls in Buenos Aires, Abu Dhabi and Dubai, Cuzco and Machu Picchu in Peru, the Canyon Ranch spa in Miami, Rio de Janeiro, Kuala Lumpur and Singapore and the wonders of Sydney Australia. These added land programs transform a cruise vacation into a cruise/tour package.
As a valued partner of Regent Seven Seas, RegentCruiseSale.com is excited to help their online customers explore the expansion of "Why Choose?" to new destinations. These new destinations mean more options for travelers and access to some of the most popular travel destinations in the world.