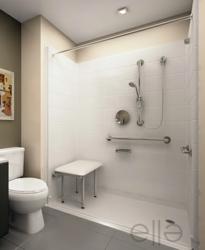 Internal grab bars now come on several of the walk in bathtubs and handicap shower stalls.
Denver, CO (PRWEB) May 10, 2013
National walk in bathtubs provider, Aging Safely Baths announces specialty safety grab bars pre-installed on several of the senior bathtubs offered. The company specializes in hydrotherapy walk in tubs, handicap shower stalls, hydrotherapy, bathtub lifts and safety grab bars.
Having the grab bars already installed can potentially save customers time and money on the installation process. In addition, the safety grab bars can be a great accessory which may be used to assist the bather entering and exiting the walk in tub. The transfer bathtubs, wheelchair accessible bathtubs and handicap showers also come with a pre-installed internal grab bar.
These unique bathroom safety products offered can be used in hospitals, physical therapy centers, nursing homes, assisted living facilities and in the home. Despite what one might think, these walk in tubs and handicap showers are designed to fit comfortably into most residential bathrooms. The installation costs can vary greatly depending upon many factors, one of which is whether or not electrical is required for the hydrotherapy jets and electric accessories.
Fall prevention is something that's on many senior citizens minds and it's important for the elderly be proactive about their own safety. Fortunately there are many resources available and aging in place technologies designed to assist with mobility. Bathtubs that have a step in and door, potentially make it easier for someone to enter a tub, versus maneuver over a typically 15" to 20" tub edge.
According to Aging Safely, there are numerous safety features available on the hydrotherapy walk in bathtubs, transfer tubs and handicap shower stalls. Shoppers can select accessories such as temperature control devices, chromatherapy, aromatherapy and ozone sterilization. Customers can also select from acrylic or triple gel coat senior bathtubs.
The warranties offered by the company are industry leading and can vary depending upon the model purchased. However their minimum standard is a lifetime door seal warranty against any leaking or failure to the bathtub door system. Part warranties range from one year to five year. Likewise, labor warranties vary and are dependant on whether or not the installation was performed by the company. Additionally customers have the option to purchase these specialty bathing products without installation included. In which clients can have their own licensed plumber and general contractor perform the installation and still maintain all factory warranties.
Interested parties who would like more information on these walk in bathtubs, handicap showers, transfer bathtubs or safety grab bars are encouraged to contact Aging Safely for a no cost consultation. Representatives will assist shoppers on selecting the proper bathroom appliance, per their unique needs. There are multiple styles, configurations, features and important differences to consider before selecting the proper tub or shower. Furthermore commercial organizations such as assisted living facilities, nursing homes and medical centers can contact the company to speak with a commercial bathing account manager.
Contact Information:
Zachary Wennstedt
1-888-779-BATH(2284)
info(at)Agingsafelybaths(dot)com