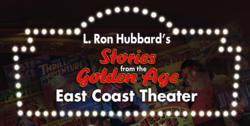 The [East Coast Golden Age] theater is happy to celebrate two successful years..and we hope to continue bringing our performances to the Tampa Bay area for many years to come
Tampa Bay, FL (PRWEB) May 13, 2013
The East Coast Golden Age Theater will celebrate its second anniversary with a dinner-theater performance of the fictional short story If I Were You by L. Ron Hubbard on May 25, 2013. The East Coast Golden Age Theater was formed in 2011 and has brought suspenseful, yet comedic relief to Tampa Bay audiences since its inception. Doors open at 5:30 PM at the Fort Harrison (211 S. Fort Harrison Avenue) in Downtown Clearwater.
If I Were You chronicles the escapades of circus midget, Little Tom Little, as he vies for the top circus position of ringmaster.
Does size matter? Is bigger better? That's no small question to Tom Little — the circus midget with giant dreams.
Tom may be king of the midgets, but he's got far grander ambitions—to become the muscleman at the top, the ringmaster. Now, he's about to get his wish. Imagine a pint-sized Mickey Rooney on steroids, trading up into a body like Burt Lancaster's. Then imagine paying the biggest price of all.
Assuming another man's identity, Tom discovers he must also take on his sins, debts, and enemies. He may be living large—but now there are those who want to make him pay for the big man's sins.
If I Were You will be narrated by Joanie Sigal and stars veteran Tampa Bay actors: Eric Cefail, Dylan Cefail, Nick Hill, Bridget Haggerty, Alexis Corey, Doyle Mills, Maudi Taufer and Alejandro Licea. The Fort Harrison will open its doors at 6 PM and dinner will be served by the Fort Harrison award-winning chefs. Tickets are $40 for general seating in advance, $20 students and children 12 and under.
Joanie Sigal, Tampa Bay's own local singer-artist and East Coast Golden Age Theater spokesperson, produced and directed the show along with Linda Aldrete. Sigal was previously featured on NBC Daytime to discuss the theater and enjoys bringing the stories to a variety of audiences.
"The [East Coast Golden Age] theater is happy to celebrate two successful years," commented Sigal, "and we hope to continue bringing our performances to the Tampa Bay area for many years to come."
The East Coast Golden Age Theater is notable for its dramatic readings of stories written by L. Ron Hubbard. Written in the 1930s and 40s, the stories cover a wide range of genres – action, romance, mystery, adventure, science fiction, Western, suspense, fantasy and more.
For more information or to reserve your seat, please contact Victoria Kovesdy at (727)-467-5000 or Linda Aldrete at eastcoastgoldenagetheater(at)gmail(dot)com or (727)-467-6780.
About The East Coast Golden Age Theater & Stories from the Golden Age:
Stories from the Golden Age which contains 153 stories all written by Hubbard during the 1930s and 1940s—in genres ranging from Mystery, Thriller, Science Fiction and Fantasy, to Adventure and Western, using his own and fifteen pen names—is widely considered America's Golden Age of Fiction. The print version of each work includes the pulp fiction artwork that originally accompanied the story in magazine publication. In addition, each title offers a full-cast, unabridged audio theatrical presentation complete with theme music and sound effects. Started in 2011 and modeled after the Golden Age Theater in Hollywood, the East Coast Golden Age Theater performs live readings of these acclaimed fiction works up and down the East Coast of the United States. For more information on scheduled performances, visit: http://www.eastcoastgoldenagetheater.com.